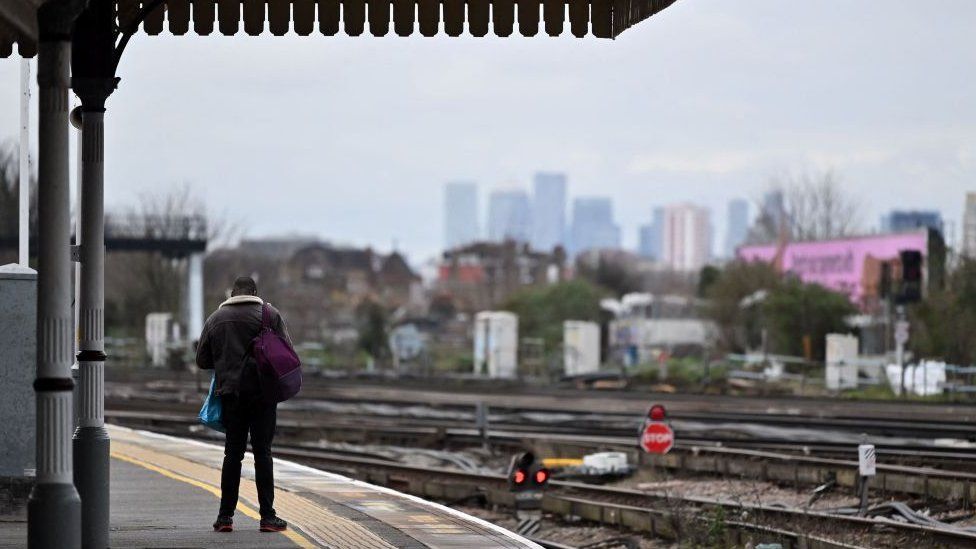 Image source, Getty Images
Transport ministers must follow the example of their colleagues in the Department of Health and offer "new money" in union negotiations, the head of the RMT union says.
Mick Lynch was speaking at a picket line at London's Euston station as rail workers strike over pay and conditions.
Train passengers are facing further disruption this weekend as a result.
It follows a week of strike action from teachers, junior doctors and civil servants as well as rail workers.
Mr Lynch said ministers in the health service had shown a small "change in attitude" in offering NHS staff in England - including nurses and ambulance workers - a 5% pay rise from April as part of government negotiations.
"The difference in that is there are no conditions, it's new money - but our members are expected to swallow vast changes to their working conditions and they're not prepared to do that to get a very modest, poor pay rise," he said.
"In order to get something moving they'll have to take away some of the conditions they've put on this proposal, and we want some fresh money in the pay proposal, so we'll see what happens next week."
Three of the biggest unions - the Royal College of Nursing, Unison and the GMB - are backing the deal.
In Saturday's rail strike, workers at 14 train operators are walking out over a long-running dispute over pay, job cuts and conditions.
Across the UK, only between 40 and 50% of trains are expected to run on Saturday, with no services at all in some places.
Rail passengers have been advised to check before travelling, with services starting later and finish much earlier than usual.
Football fans, those making the journey to Cheltenham Festival by train and people travelling for the weekend are among those expected to be affected.
Some travellers posted on social media about disruption to their journeys.
"I hate train strikes, M6 is just traffic forever," wrote a supporter of Aston Villa Football Club who are playing Bournemouth at Villa Park stadium in Birmingham this afternoon.
"Missing Southampton FC because of train strikes is miserable, come on you saints. Wishing I was there," wrote another football fan travelling to a separate game.
Another said: "Train strikes. Roadworks everywhere. Rain. It's almost as if a higher power is telling me not to go to Queens Park Rangers today."
The Rail, Maritime and Transport union said more than 20,000 workers were walking out on Saturday.
Steve Montgomery. who chairs the Rail Delivery Group (RDG), said the latest strike action would be a "further inconvenience" for passengers "who have already experienced months of disruption".
"Unfortunately, while we will pull out all the stops to keep as many trains running as possible, there will be reduced services across many parts of the rail network on strike days, so our advice is to check before you travel," he added.
RMT members also walked out on Thursday and further strike action is planned for 30 March and 1 April.
Unions say any pay offer should reflect the rising cost of living, which is currently above 10%.
Mr Lynch said the private rail companies were "in complete chaos".
He said the RDG needed to "sort themselves out and settle our dispute with an improved offer".
"They are incapable of providing a decent service to passengers and the sooner they are brought into public ownership the better."
Following the walkout, there are warnings that trains services could also be disrupted on Sunday morning as some rolling stock will not be in the right depots.