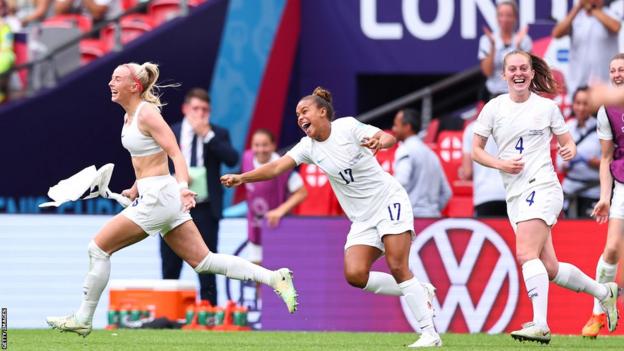 Research showed 1.8m watched the Women's Euros but not the men's World Cup in 2022
The amount of time the average viewer spent watching women's sport in 2022 is more than double the 2021 figure, according to new research from the Women's Sport Trust (WST).
The WST found the average viewer watched eight hours and 44 minutes of women's sport in 2022, compared with three hours and 47 minutes in 2021.
The research also showed some people watched women's sport and not men's sport in 2022. For example, 8.4m watched Women's Super League games but not Premier League.
In addition, 1.8m watched the Women's Euros but not the men's World Cup, 1.5m only watched the Women's Hundred and 1.3m only watched women's matches at the Rugby League World Cup.
The WST found 21.2m viewers watched two hours or more of women's sport. This is more than the equivalent figure for I'm A Celebrity… Get Me Out of Here! (19.1m), Strictly Come Dancing (18.9m) and the Great British Bake Off (11.9m).
All this growth was despite women's sport representing just 13% of sports coverage hours on what the WST defined as "key sports channels", which included BBC One, BBC Two, Sky Sports Main Event, Channel 4 and ITV.
Domestic women's sport was watched by 37.6m in 2022 and 32.9m in 2021, with the increase attributed to football's WSL, watched by 16m people in 2022.
But the number of unique viewers watching three minutes or more of women's sport on television decreased when compared with 2019 - 40.1m down from 41.7m - and this was attributed to a boost from the 2019 Fifa Women's World Cup.
Euro 2022 offered a boost of its own as 53% of those watching the tournament who were new to women's sport went on to watch more after England won the final.
WST chief executive Tammy Parlour said the figures were "testament to our belief that if you make women's sport visible, then viewership will follow".
Parlour called on the media to "continue to build visibility" across television and other platforms to "help build connection and habit with women's sport".