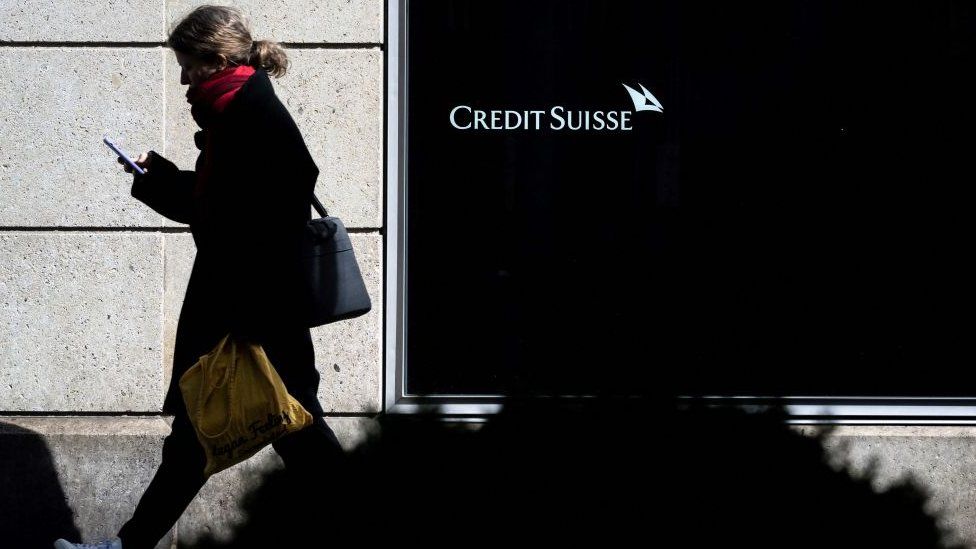 Image source, Getty Images
By Daniel Thomas & Michael Race
Business reporter, BBC News
A spokesman for the Prime Minister has said the UK banking system "remains safe and well capitalised" after the emergency rescue of Credit Suisse.
The bank was bought by rival UBS on Sunday after regulators worked around the clock to secure a deal.
Along with the collapse of two smaller US banks in recent weeks it has sparked fears over the global financial system.
Shares in European banks were volatile on Monday as investors continued to worry about a wider financial crisis.
Despite the Credit Suisse rescue, banking stocks remained under pressure, dropping sharply before regaining some ground with Deutsche Bank, Barclays and Santander trading lower.
In the US, meanwhile, shares in First Republic - another troubled lender - fell 14% in early trading.
Central banks have been trying to reassure the public, with the Bank of England and saying that the UK's financial system is "safe and sound".
Despite the panic, experts do not expect a repeat of 2008 when banks stopped lending to each other. The situation was so dire then it sparked a global recession.
Banks have been struggling with the recent rise in interest rates which has left some sitting on substantial losses.
It led to the collapse of Silicon Valley Bank and Signature Bank - two medium sized lenders - in the US last week and sparked concerns other banks could get into trouble.
Credit Suisse - which had been loss-making for some time but which was otherwise well capitalised - has been hit by this crisis of confidence.
The 167-year-old institution is one of around 30 banks worldwide deemed too big to fail because they are of such importance to the banking system.
Switzerland's second largest lender, which has struggled with a string of scandals over the last few years, was sold to UBS at just over $3.15bn (£2.6bn), a fraction of its $8bn price tag on Friday.
Mark Yallop, the former UK chief executive of UBS, said the deal "should" do the job of reassuring investors.
"This is a takeover of a challenged institution with particular idiosyncratic problems that relate to it specifically [and are] not reflective of broader issues in the banking markets," he told the BBC's Today programme.
Image source, EPA
Image caption,
The chairmen of both banks spoke at a news conference in Bern on Sunday
UBS chairman Colm Kelleher described said it would wind down Credit Suisse's investment banking operations but that it was "too early" to say what would happen about jobs.
Credit Suisse has around 74,000 staff, around 5,000 of them in the UK.
"We need to do this in a rational way thoughtfully, when we've sat down and analysed what we need to do," he said.
Ordinary people have little reason to fear for their funds.
In the highly unlikely scenario that a bank or building society actually collapses, then deposit protection is in place.
In the UK, that means £85,000 per person, per institution is protected (or £170,000 in a joint account). So, if you have £85,000 in one bank, and another £85,000 in a separately licensed bank, then it is all safe if both went bust, under the Financial Services Compensation Scheme. There is also a higher temporary limit of £1m for six months, if you get a sudden influx of funds, such as an inheritance.
Protection is similar in the EU, and the US government has safeguarded deposits of up to $250,000 for a long time.