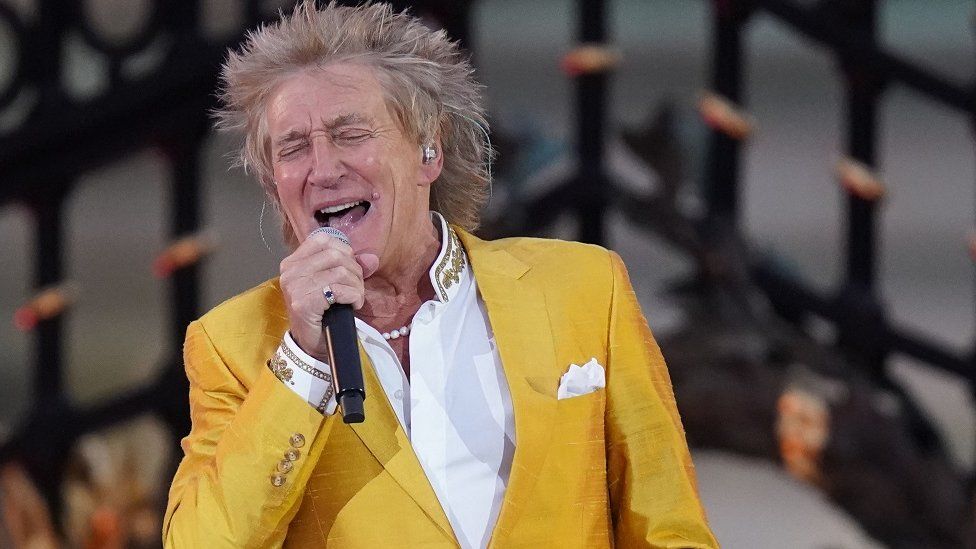 Image source, PA Media
Image caption,
Sir Rod Stewart performed at the Platinum Jubilee celebrations at Buckingham Palace last year
Sir Rod Stewart has called on the Conservative government to "stand down" and make way for Labour, in an impromptu call-in to Sky News.
The British pop star, 78, phoned in to the broadcaster's "your say" programme while building his model railway at home to discuss problems in the NHS.
Sir Rod described the state of the NHS as "heart-breaking" and said he had never seen the country "so bad".
The Maggie May singer said it was time to "change the bloody government".
Labour welcomed his spontaneous call for political change, which was splashed across the front pages of newspapers on Friday.
One Labour source told the BBC the party under Sir Keir Starmer's leadership was "finally giving the whole country Reason To Believe", a nod to Sir Rod's 1971 song.
Shadow health secretary Wes Streeting tweeted to say "Maggie" - former Prime Minister Margaret Thatcher - "may have been a Tory but Rod's Labour".
The Conservative Party said it was not commenting on Sir Rod's political intervention.
Sir Rod, who said he had voted Conservative for a long time, has entered the political fray before with pointed opinions on the issues of the day.
In 2019, Sir Rod said it would be "a shame" if Scotland became independent, calling himself "somewhat of a traditionalist".
He has also criticised Brexit, telling a Spanish newspaper in 2021 that leaving the European Union was "an enormous mistake and we're realising it too late".
Sir Rod's latest political remarks come three years after he congratulated former Prime Minister Boris Johnson on his landslide election victory in 2019.
'Do some good'
In his Sky News phone-in, Sir Rod said he was prompted to call the show and express his views after hearing about the "ridiculous" situation in the NHS.
He said he had attended a private health clinic on Thursday that was basically "empty" while NHS patients were "dying because they cannot get scans".
He offered to pay for up to 20 scans "to do some good". "If other people follow me I'd love it," he added.
A squeeze on funding, pandemic backlogs and staffing issues have put the NHS under unprecedented pressures that doctors say could cost lives.
NHS staff have been taking strike action over pay in recent months, with more walkouts planned in the coming weeks.
Sir Rod told the broadcaster the "NHS needs to be rebuilt with billions and billions" and that nurses who had been striking over the last two months over pay were "not asking for much".
Sir Rod, who has had six number-one hits in the UK charts, said: "Poor nurses, I'm on your side."
When discussing the reasons nurses were going on strike, Sir Rod said: "I've personally been a Tory for a long time and I think this government should stand down now and give the Labour party a go."
At the end of the phone call, Sir Rod sang a line of his number-one single, Maggie May.
A pun on the lyrics from another of his hits, Sailing, appeared on the front page of the Mirror, which ran the headline: "We are failing".