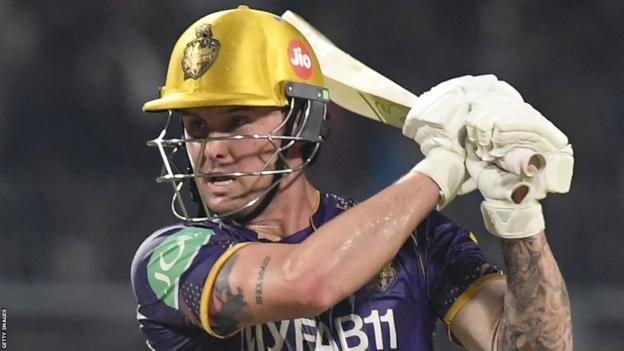 Jason Roy plays for Kolkata Knight Riders in the Indian Premier League
Opener Jason Roy has become the first England player to end his national team contract to pursue opportunities in franchise cricket.Instead of his £60,000-£70,000 ECB contract, he will earn £150,000 in the inaugural season of the Major League Cricket in the United States.Despite the move Roy will still be available for national selection but on a pay as you play basis.
Roy, 32, said: "To be very clear, my priority is England cricket, especially with a World Cup soon upon us."
Writing on social media, he added: "It is for me, and for any player, the greatest honour to receive a cap to play for their country.
"I wanted to clarify that I am not and never will walk away from England."
He is the first England player to end his central contract to pursue franchise opportunities.
An England and Wales Cricket Board (ECB) statement said: "Jason Roy has informed the England and Wales Cricket Board that he wishes to take up an agreement with Major League Cricket in the USA later this summer.
"The ECB have agreed for him to play in the competition on the proviso that he gives up the remainder of his ECB incremental contract, which both parties have agreed to.
"The ECB wish to clarify that this decision will not affect Jason's selection for England teams going forward. We have absolute confidence and faith that Jason is committed to England cricket."
Roy has been a key component of England's dominance of the global white-ball game, a regular in the side that was crowned 50-over world champions in 2019.
However, a loss of form saw him dropped from the squad that won the T20 World Cup last year and, in October, he saw his central contract downgraded to an incremental deal, worth between £60,000-70,000.
With Major League Cricket taking place between the T20 Blast and The Hundred, Roy might have been ordered to rest by England, especially with the defence of the 50-over World Cup on the horizon in India in October and November.
Instead, Roy will end his England deal, forgo the rest of his salary up to its expiry at the end of September and earn up to £150,000 for a season in the US.
"Representing my country continues to be my proudest moment as a professional cricketer," added Roy.
"I hope to play for England for many more years. That remains my priority.
"I've had clear and supportive conversations with the ECB about participating in Major League Cricket. The ECB were happy with me to play in the competition as long as they didn't have to pay me for the remainder of the contractual year.
"As a single-format player with no central contract I wanted to take the opportunity to play this competition as there are currently no scheduling conflicts with England. It benefits me as an England player to play as much competitive cricket as possible."
Though there is some overlap with the Blast, it is understood Roy will remain with his county Surrey if they reach finals day, before returning to play for Oval Invincibles in The Hundred in August.
Roy has played five Tests, 116 one-day internationals and 64 T20s for England, scoring almost 6,000 international runs.
His decision is the latest in a fast-changing landscape of global cricket, with the money on offer to players in franchise leagues challenging the primacy of international matches.
In response, England are set to revamp their central contract system, with greater flexibility and possibly more money on offer.
Some players could be offered multi-year deals to guard against the attraction of franchise leagues.
White-ball specialists could be offered small retainer contracts but increased match fees, to make England tours more financially attractive than a stint playing in a league.