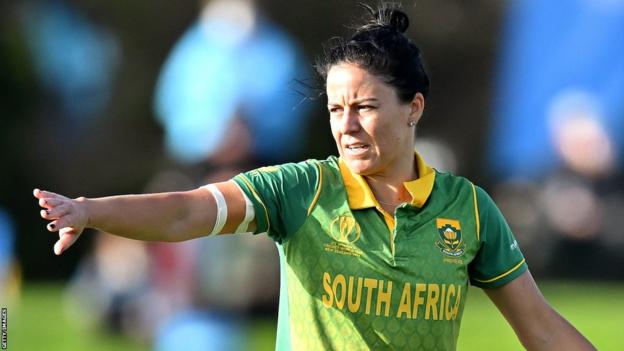 Kapp is the first woman to take a hat-trick for South Africa in a T20
South Africa have given Marizanne Kapp "compassionate leave" after her wife Dane van Niekerk was left out of the country's Women's T20 World Cup squad.
Van Niekerk was omitted for February's tournament, which South Africa is hosting, as she failed "to meet the minimum criteria for fitness".
Kapp will miss the final T20 of a triangular series against India.
"Emotional couple of days, I am a wife FIRST and then a cricketer," Kapp said on Twitter.
"Thank you CSA [Cricket South Africa] for affording me the opportunity to be home to support my wife and see the family, as I mentally refresh and prepare for the T20 World Cup. It has always been my biggest honour to represent my country."
South Africa coach Hilton Moreeng said: "The leave was granted so she can come back ready to play. She is part of the World Cup [and] she is committed to the World Cup cause.
"She needed a break for compassionate leave and it was granted to her because we felt we are very happy with the form she is in, as far as her skills are considered."
Cricket South Africa said all-rounder Van Niekerk did not achieve the required time for a two-kilometre run.
She posted a message on social media to say that she was "absolutely broken" after her omission.
Kapp, 33, and Van Niekerk, 29, made their international debuts together during the 2009 ICC Women's World Cup.
They are both set to feature in the auction for the Women's Indian Premier League (WPL), which is expected to take place at the beginning of February.