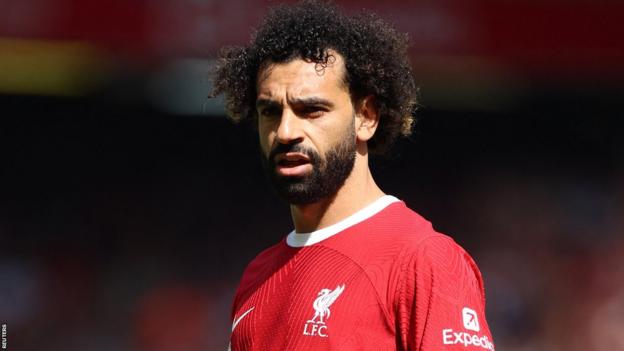 Salah has scored 19 Premier League goals with one game left this season
Liverpool forward Mohamed Salah said he is "devastated" the club have missed out on a spot in next season's Champions League and added "there's absolutely no excuse for this".
Liverpool will finish fifth and play in next season's Europa League.
"We let you [fans] and ourselves down," said Egypt international Salah, 30.
Liverpool won seven of their past eight games in a late push for fourth place but, ultimately, could not make up for their inconsistent form for much of the season before that run.
United only needed a point at home to Chelsea in the penultimate game of their season to confirm their Champions League place and join champions Manchester City, second-placed Arsenal and Newcastle United as England's contingent in Europe's top competition next season.
"We had everything we needed to make it to next year's Champions League and we failed," said Salah, who was part of the Liverpool team that won the tournament in 2018-19 and lost last year's final to Real Madrid.
"We are Liverpool and qualifying to the competition is the bare minimum.
"I am sorry but it's too soon for an uplifting or optimistic post."
Latest Liverpool news, analysis and fan views
Get Liverpool news notifications
Listen to the latest The Red Kop podcast


Our coverage of Liverpool is bigger and better than ever before - here's
everything you need to know
to make sure you never miss a moment
Everything Liverpool - go straight to all the best content