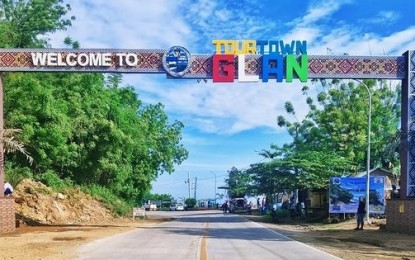 The entrance arch of Glan, Sarangani province. (File photo courtesy of the municipal government)
GENERAL SANTOS CITY – Fully vaccinated tourists from outside Soccsksargen may now enjoy the famed white-sand beaches and other popular destinations in "tour town" Glan in Sarangani province.
Rhoa Wadingan, Glan tourism officer, said on Thursday the local government has decided to reopen its beach resorts and facilities to tourists from outside the region, especially those who have been fully vaccinated against the coronavirus disease 2019 (Covid-19).
She said the move is part of their continuing efforts to help the area's tourism industry recover from the impact of the pandemic.
"This is an incentive to those who are already vaccinated and hopefully will encourage others to also get the vaccines," she said in an interview.
Based on the guidelines earlier issued by Glan Mayor Vivien Yap, Wadingan said visitors need to present their confirmed bookings with a resort and register with the town's contact tracing application Data Vault for Your Covid-19 Assistance Response Emergency System or "DVY Cares."
She said unvaccinated tourists from other areas are still welcome, provided they can present negative Covid-19 antigen test results.
The municipality closed down its 35 beach resorts and hotels in mid-June this year due to the surge in Covid-19 cases but reopen them a month later to tourists from Soccsksargen.
Wadingan said the number of tourists visiting the area has been increasing since August and they expect a further hike in arrivals as the recorded new infections in the region and other areas continued to decline.
She said the number of visitors in the province grew from 24,139 last August to 44,307 in September.
"Majority of our resort workers are already fully vaccinated and we hope that this will encourage more tourists to come," he said.
Glan, dubbed the "Boracay of the South" due to its pristine white-sand beaches, was one of the top tourist destinations in Soccsksargen before the pandemic.
The Sarangani Bay Festival, a three-day annual beach party last hosted by the town in 2019, attracts as many as over 100,000 tourists from various parts of the country.
Aside from its beaches, Glan, which celebrated its centennial year in 2014, also offers a glimpse of its historic past through its well-preserved century-old ancestral houses.
Early this week, the National Quincentennial Commission unveiled a historical landmark near the shores of Barangay Batulaki, Glan to commemorate the passage in the area 500 years ago of the surviving crew of the Magellan-Elcano expedition. (PNA)