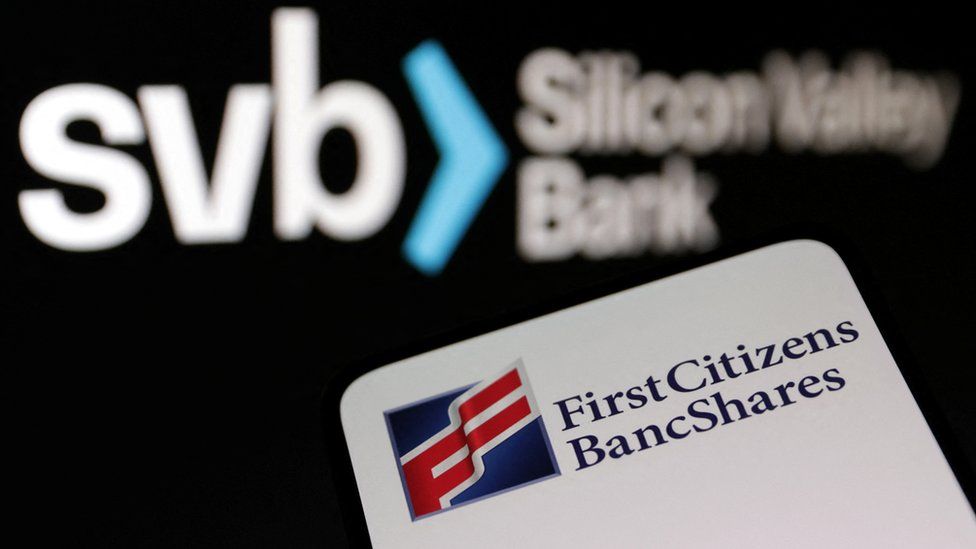 Image source, Reuters
Assets and loans of the collapsed US lender Silicon Valley Bank (SVB) are being bought by rival First Citizens BancShares.
Seventeen former SVB branches will open under the First Citizens brand on Monday, the US Federal Deposit Insurance Corporation (FDIC) says.
The FDIC seized SVB earlier this month after a run on the bank.
The collapse triggered fears about the stability of other lenders forcing regulators to step in.
Since then, Swiss banking giant Credit Suisse has had to be rescued after depositors began pulling their money out of the bank. Shares in banks around the world have also fallen sharply.
In a statement, the FDIC said SVB customers should continue to use their current branch until they receive notice from First Citizens Bank that their account has been fully moved across.
First Citizens is based in Raleigh, North Carolina and calls itself America's biggest family-controlled bank. It has been one of the largest buyers of troubled banks in recent years.
It has bought around $72bn of SVB's assets and loans at a discount of $16.5bn. The FDIC will still hold about $90bn of SVB's assets.
Media caption,
Is this the start of a financial crisis?