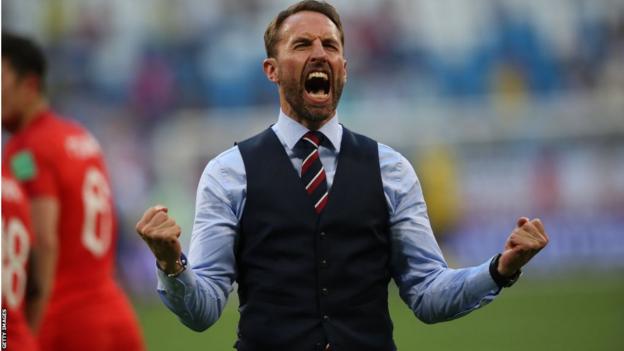 Gareth Southgate guided England to the semi-finals of the 2018 World Cup and final of Euro 2020
Host nation:
Qatar
Dates:
20 November-18 December
Coverage:
Live on BBC TV, BBC iPlayer, BBC Radio 5 Live, BBC Radio Wales, BBC Radio Cymru, BBC Sounds and the BBC Sport website and app.
Day-by-day TV listings
-
Full coverage details
Criticism of England manager Gareth Southgate is "crazy talk", says Three Lions defender Eric Dier.
But they have not won in their past six matches and were relegated to the second tier of the Nations League.
"I think it's crazy talk because what he's done the last two tournaments, people's perception changes so quickly," said the Tottenham defender.
"You've got to remember what England were doing before.
"He [Southgate] has taken England to the semi-final of a World Cup and the final of a Euros, and at that point we are talking about small margins that change the outcome of those results. It is just the world we live in.
"The criticism is crazy after a small run of results considering how England have performed at the last two tournaments, and he was at the forefront of that. That conversation is crazy."
Dier, 28, was a key member of the squad in Russia at the last World Cup, scoring the winning penalty in the shootout victory over Colombia in the last 16 as England reached the semi-finals, their best performance in a men's World Cup since 1990.
However, he was left out of the squad for Euro 2020, before getting an international recall in September.
"People ask me if I was upset that I didn't go to the Euros, and I say 'it was obviously the right decision because they got to the final'," added Dier.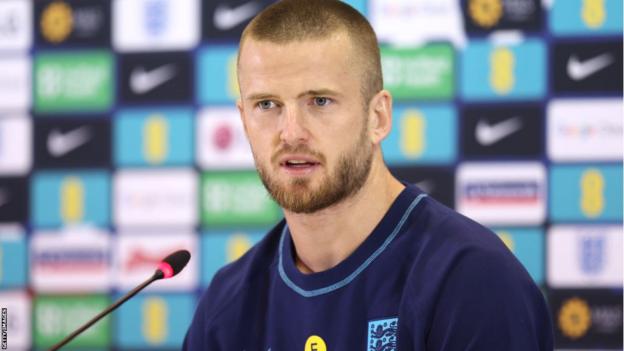 Tottenham centre-back Dier has 47 England caps
'Don't need alcohol to create a great atmosphere'
Also in his news conference Dier said alcohol isn't needed "to create a great atmosphere" after Fifa announced last-minute alcohol ban for World Cup stadiums.
Fifa changed its policy two days before the tournament kicks off in Qatar.
Alcohol was set to be served "in select areas within stadiums", despite its sale being strictly controlled in the Muslim country.
"I'd like to think you can enjoy yourself with or without alcohol," Dier said on Saturday.
"It's up to us as a team and every team in the tournament to bring great football, exciting football and that's what is going to create a great atmosphere in the stadiums."
People in corporate areas of stadiums at the tournament will still be able to purchase alcohol.
The World Cup starts on Sunday when hosts Qatar play Ecuador.
In his news conference on Saturday, Fifa president Gianni Infantino said: "I think if, for three or four hours a day, you cannot drink a beer, you will survive."
Dier added: "Players and fans feed off each other and we need to be the ones to initiate that with good football.
"The football is the fundamental thing in creating that environment."
England get their campaign under way against Iran on Monday at 13:00 GMT.
World Cup 2022: We believe as a team we can win - Kieran Trippier
Fifa World Cup: Groups & Schedule
World Cup TV Coverage guide


Get the latest results and goal notifications for any team at the Fifa World Cup by downloading the BBC Sport app: Apple - Android - Amazon




Get your daily dose of Fifa World Cup reaction, debate & analysis with World Cup Daily on BBC Sounds