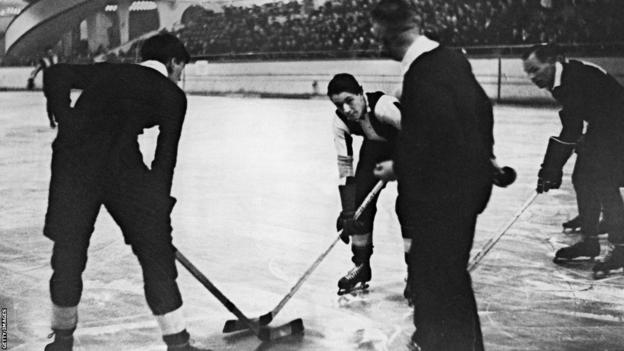 Ball, centre, playing for Berliner SC in December 1930
In the spring of 1945, Major Gordon Dailley drove his Canadian Army jeep 500 miles from the Netherlands to Berlin in a single day.
His only previous trip to Germany had been nine years earlier, when he helped Great Britain win ice hockey gold at the 1936 Winter Olympics. He had met Adolf Hitler on that trip. This time he did not.
Dailley arrived in the German capital three days after the Fuhrer had killed himself, and with World War Two coming to an end. There, he bumped into Ian Gordon.
Gordon was a war correspondent, covering the city's fall and the Allies' victory. But in a previous peacetime life, he had reported on ice hockey and Dailley the player.
Gordon hopped into the jeep and together they took a tour of ruined Berlin. They soon came across what was left of the Reich Chancellery - the very heart of Nazi power - and, in the garden, found a couple of discarded jerry cans.
The pair reckoned they were probably used in the burning of Hitler's body. In the chaos, there was no-one to say different. Dailley decided they would make good souvenirs.
Later they passed a line of civilians queuing for soup being distributed by Allied troops. One dishevelled chap caught their eye. It was Rudi Ball, a man who less than a decade before they had seen in very different circumstances.
Ball had been the Jewish star of the Germany ice hockey team, who Dailley had faced off against at the 1936 Olympics. Dailley and Gordon were stunned. How had Ball survived the war? How had he escaped Hitler's genocide?
Trying to find out, some 78 years later, has not been straightforward.
Many questions remain, and some answers have led to bigger questions still.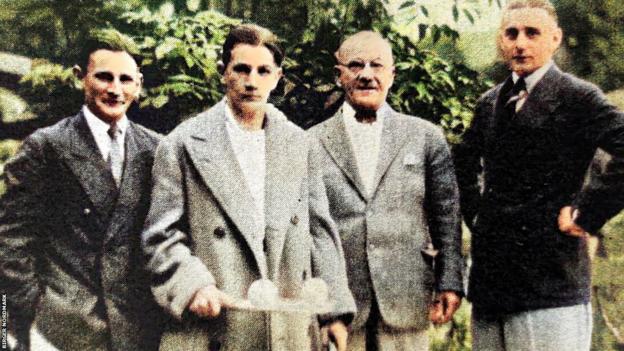 Heinz, Rudi, father Leonhard and Gerhard pose for the family photo in 1929
Rudi Ball was born in Berlin in 1910, the youngest of three brothers, after Gerhard and Heinz. His father was a German, his mother a Lithuanian Jew.
All three brothers would play ice hockey and all three won the German Championship with their local Berliner SC team. All three would also play for Germany.
It was a boom time for German ice hockey and Rudi Ball was a big part of it, helping his country win world championship silver in 1930 and bronze at the Lake Placid Winter Olympics of 1932.
But in 1933, with the political situation darkening as Hitler and the Nazi party rose to power, all three Ball brothers left, taking up offers to play in Italy and Switzerland and avoiding the growing persecution of Jews in their home country.
By then, Germany had already been awarded hosting rights for the 1936 Winter Olympics. Their approach to the Games was a source of confusion, especially as Hitler had made a speech in 1932 in which he described them as "a play inspired by Judaism which cannot possibly be put on in a Reich ruled by National Socialists".
But, once the Nazis were in power, propaganda minister Joseph Goebbels saw their potential to be used to their own ends.
As antisemitism grew in Germany, Jewish books were burned and businesses boycotted. In September 1935, Jews were legally barred from being German citizens and no longer allowed to marry an "Aryan".
The International Olympic Committee asked for assurances. The Nazis replied that German Jews would still be eligible for their national team. Whether they picked them or not was another matter, though.
At 5ft 4in, Ball was tiny compared with today's players, but he was lightning-fast with an accurate shot. He was a star player and led the scoring on most of his teams. When the German ice hockey squad was announced, his name was not on the list.
In response, one of his team-mates, Gustav Jaenecke, a tough defender who had also represented Germany at tennis in the Davis Cup, refused to play unless Ball was brought in. The issue was discussed at secret Nazi party meetings and a small delegation travelled to speak with Ball. It was decided that he would be included after all.
Ball agreed to return, but only on the promise that his family would be allowed to leave the country after the Games. This was agreed.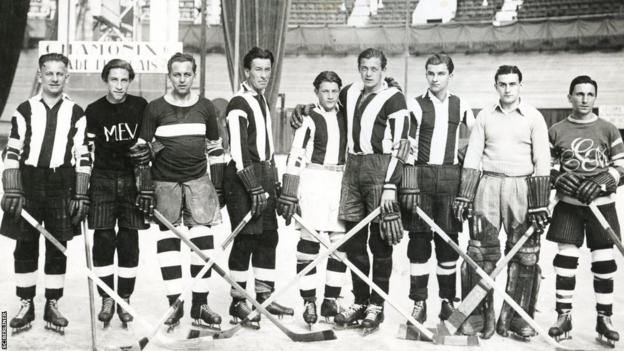 Rudi Ball is fifth from left, with his brother Gerhard second from the right in this image of Berliner SC in France in October 1931. Gustav Jaenecke stands with his arm around Rudi.
In an uncharacteristically short speech, Hitler formally declared the fourth Winter Olympic Games open on 5 February 1936 at the Olympic Ski Stadium in front of almost 50,000 spectators and more than 1,000 competitors.
There had been international debate about a boycott, with protests raised in several western countries, but the possibility petered out. As host venue Garmisch-Partenkirchen was readied, most of the antisemitic signs in the surrounding villages were taken down. Army trucks ferried soldiers around on unspecified manoeuvres - they were officially there in case snow needed to be moved down the mountains because of unseasonably warm weather.
Westbrook Pegler, a journalist from the United States, wrote about foreigners being manhandled by troops and likened the large military presence to a scene from the western front. The Nazis didn't like it. The press bureau in Garmisch contacted the New York Times to say that anyone reporting large numbers of troops in the area was a liar.
In the ice hockey, Germany faced a tough preliminary group that included pool favourites the United States and strong challengers Italy and Switzerland. The hardest game was scheduled first, against the Americans in an open-air 10,000-seat arena.
The United States scored the only goal early on and, as heavy snow fell, the game was ruined as a spectacle with numerous breaks in play to clear the rink. Despite Germany's defeat, it was agreed that Ball was the best player on the ice.
The next game against Italy was suddenly a must-win. Defeat would have put the Germans out of the competition within the first two days. Whether to provide positive support or a reminder that losing was not acceptable, high-ranking Nazis Rudolf Hess - who was deputy Fuhrer - and Goebbels attended.
The hosts played a complete game, restricting Italy's chances and scoring a goal in each period for a 3-0 win. Ball got the third. It was not reported whether Hess and Goebbels applauded his goal.
The final group game against Switzerland was played in temperatures of -11C as Ball scored again in a 2-0 victory. Germany were comfortably into a second group stage, where a simple win over Hungary was marred by an injury to Ball. He tried to play on, but his effectiveness was diminished for the rest of the tournament.
Germany (left) line up to face the United States, mid pre-match battle cry, in their opening match of the 1936 Olympics
With their best player barely able to contribute, Germany now faced two decisive fixtures. The first was against an undefeated Great Britain, who had just pulled off what is still arguably the greatest Olympic ice hockey shock of all-time with victory over Canada.
The Canadians had come into the Games with a record 16 wins and one draw at the Olympics, outscoring their opponents 209-8 and winning all previous gold medals. Britain, with the backing of the vociferous German crowd, had won 2-1 against all odds.
This time, however, the crowd was frenziedly pro-German. To end the first period, an official had to fire a gun into the night sky because the referees' whistles were drowned out by the crowd.
With the game tied at 1-1, overtime was required. The announcer told spectators that the last trains back to Munich would be delayed to allow them watch the end. Three periods of overtime were played without another goal being scored before the match was decided to be a draw.
Ball played through his injury, but had little time to recuperate before Germany's next game against Canada. The loser would be eliminated. The rough style of the encounter certainly did him no favours; fights on the ice threatened to spill into the stands as Canada ran out 6-2 winners. Goebbels and Hermann Goering made announcements asking the crowd to remain calm.
Germany were eliminated. The four-team final round to decide the medals would take place without them.
At the end of the Games, Canadian journalist Matthew Halton, sniffing a story, sought out Ball.
Patience and persistence paid off as Halton secured some time alone with Germany's star.
The journalist asked him how he could bear to play for a team representing the Nazi regime which had persecuted his fellow Jews.
Ball said that to have refused would not have helped Germany's Jewish population, adding, on the contrary, "it might have done them harm".
Halton noted that a cagey Ball referred to his fellow Germans and his team as "they", rather than "we", throughout their conversation.
By this time, Ball's chief concern would have been the deal made for his family. The authorities kept their word. In July, less than six months after the winter Olympics, Ball's parents Leonhard and Gertrude sailed from Southampton on the final leg of a journey to safety, joining Rudi's brother Heinz in South Africa.
However, there was a catch. Rudi was asked to stay and play in Germany.
It is hard to know how much choice he was given in the matter. Looking back, given most of his family had left and he had been playing overseas before the Olympics, it seems an unexpected change of heart.
Ball would not have been not the only Jewish athlete afforded protection so the Nazis could exploit their sporting talent during 1936.
Olympic fencer Helene Mayer had left Germany for the US In 1935, after being stripped of her citizenship. Whether motivated by fears for her family remaining in Germany or by a desire to return to the limelight, she agreed to compete for the hosts at the 1936 Summer Games and won a silver medal. She was allowed to leave for the US afterwards.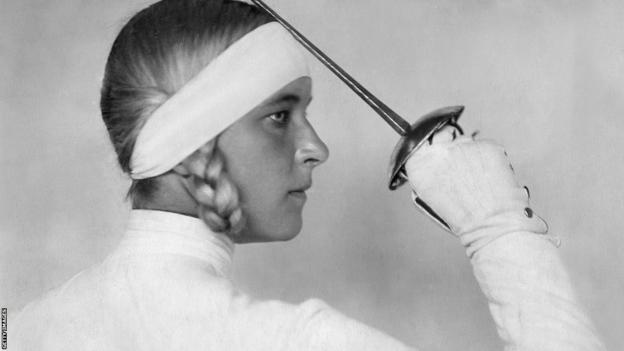 Mayer, whose father was Jewish, became one of the first female sporting celebrities when she won fencing gold for Germany as a teenager at the 1928 Olympics. She was stripped of her German citizenship as part of the Nazis' antisemitic laws, but accepted an invite to complete at Berlin 1936.
Ball, whatever his own reasons, stayed in Germany. He returned to his old team Berliner SC and continuing to score key goals as German titles racked up and war neared. The Olympics was not his final appearance for Germany either. Ball also played at the 1937 World Championships in London and at the following year's edition in Prague.
At the outbreak of World War Two, international ice hockey was halted, but, as bombs dropped around him in Berlin, Ball's career continued.
He and his old friend Jaenecke played alongside each other in a league of 10-12 teams, including sides from Czechoslovakia and Austria.
Ball's final game came in January 1943 and a little over a year later, with the Germany's war effort floundering in the east and west, all sports championships in the country were postponed until further notice.
By that time, Ball had slipped out of Berlin to live in his summer house, amid the forest and lakes of the city's outer western suburbs.
Through the rise of the Third Reich, its murderous height and its collapse, Ball survived.
His ancestry may have helped - while his mother was Jewish, his father was not.
His celebrity may also have protected him; an entertaining, flamboyant player, he and his beautiful partner Hilma Klopsch were well-known in wartime Berlin.
Ball never publicly spoke about his experiences during the war, the choices he faced and the compromises he made.
His nephew, Richard, now 79, recalls a man who did not revisit that time with his family, either.
They may have known Ball's dilemmas only too well.
Richard says that while Rudi played hockey on Nazi Germany's home front, his uncle - Rudi's brother Gerhard - served in the regime's army.
Hitler's Jewish Soldiers, a 2002 book by Bryan Mark Rigg, states there may have been as many as 100,000 or more combatants with Jewish heritage serving for Germany in World War Two.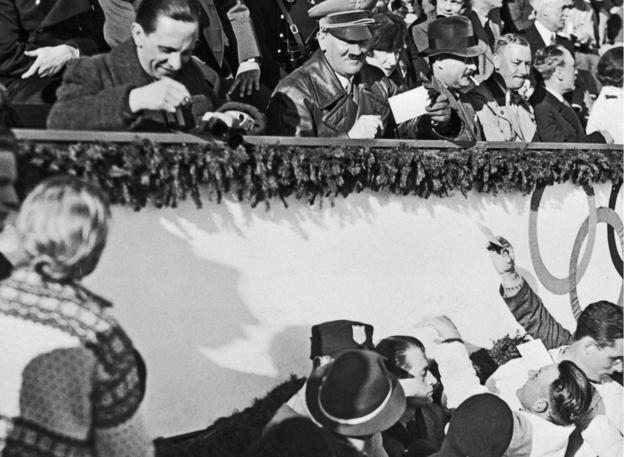 Propaganda minister Joseph Goebbels (seated top left) and Nazi leader Adolf Hitler (next right) at the Winter Olympics closing ceremony
By the time Rudi Ball was spotted queueing for soup, though, he and his family were finally free of the Nazi regime's obligations and menace.
Dailley, the fellow former player turned soldier who had spotted Ball waiting for food, led an interesting life after the war.
He was behind Canada's first safari park and served as a director of the New Brunswick Symphony orchestra. He was also president of the United Nations Association in Ottawa and a director of Oxfam of Canada and the Canadian Arts Council.
He managed all of this while serving in the Canadian military in various postings around the world. Dailley died in Canada in 1989.
As for the petrol cans? He donated them to the Canadian War Museum in Ottawa.
Ball coached Allied servicemen in Berlin in the immediate post-war years before, in April 1948, he, Gerhard and Hilma climbed aboard a plane at Berlin's Tempelhof airport bound for South Africa and a family reunion.
It would be an occasion tinged with sadness. That same month, the family learned the details of what had happened to Ball's aunt Hulda - his father's older sister.
She had died in Theresienstadt, a holding camp in the Czech Republic which the Nazis' victims passed through en route to concentration camps further east.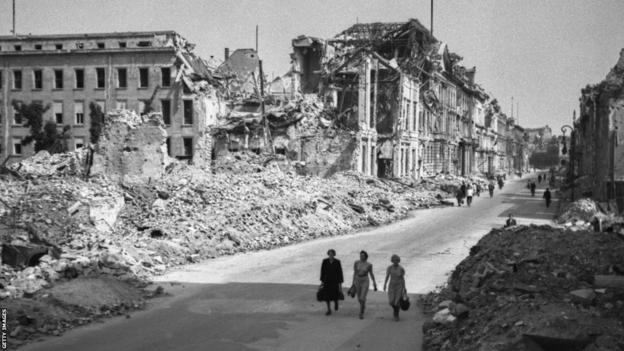 Berlin was left devastated as Soviet and Polish forces swept in and forced the unconditional surrender of Nazi Germany in May 1945
In his later years, Ball was described as charming and impeccably dressed, while displaying occasional glimpses of the dark 'Berlin humour' which had sustained him in tougher times.
His exact path through the perils and pitfalls of Nazi Germany will never be fully known, but Ball's accomplishment in surviving the war and thriving on ice was belatedly recognised.
In 2004, 29 years after his death aged 64 in Johannesburg, Ball was inducted into the International Ice Hockey Federation Hall of Fame.
And in the quiet Berlin suburbs, amid new houses, swaying trees and singing birds, a street now bears the name of the star who not only survived, but shone.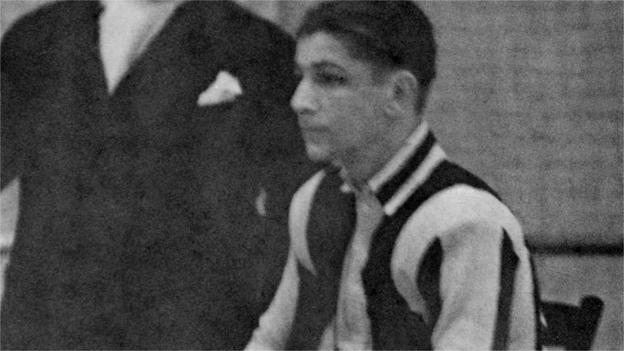 Ball pictured during a break in play for Berliner SC in 1929