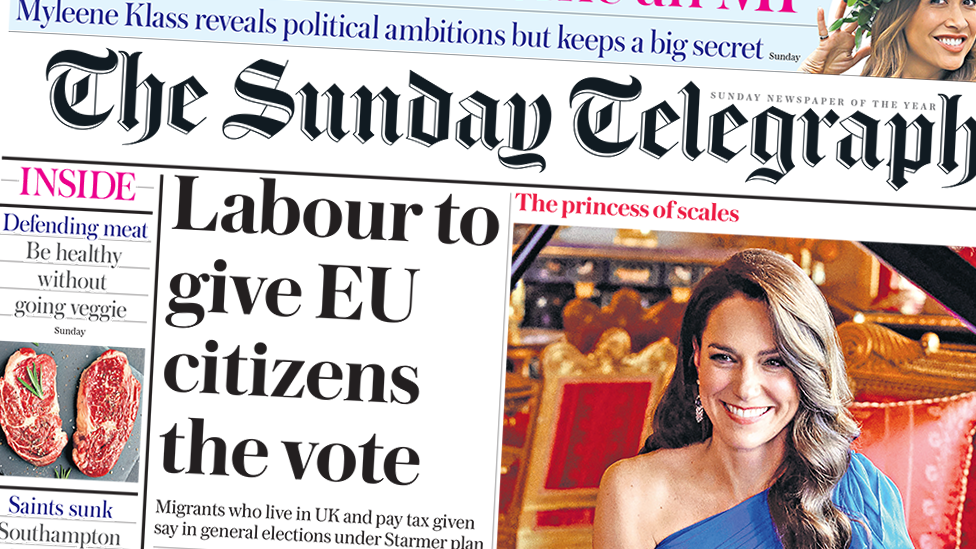 The Daily and Sunday Telegraph newspapers and The Spectator magazine are to be put up for sale due to debts owed by their parent group.
Lloyds Banking Group is looking to recover debts owed by the network of companies controlled by the Barclay family, which includes the Telegraph.
The bank is unlikely to recover the original value of the loan, worth hundreds of millions of pounds.
The Barclay family said the loans did not affect the newspaper operations.
Lloyds has placed B.UK, a Bermuda-based holding company controlled by the Barclay family, into receivership.
It is now expected to take control of companies owned by B.UK, including Press Acquisitions, which in turn owns the newspaper titles, the BBC understands.
This will put the bank in the strange position of owning some of the country's most influential newspapers, The Daily and Sunday Telegraph, as well as the Spectator magazine.
It is understood that Lloyds will not seek to influence the editorial decisions of the newspapers, and will in due course seek a buyer for the titles, which are expected to attract a number of bids.
Analysts estimate the titles to be worth around £500m, though a wealthy buyer keen to acquire the Telegraph as a trophy asset may pay in excess of that figure.
A spokesperson for the Barclays said: "The loans in question are related to the family's overarching ownership structure of its media assets. They do not, in any way, affect the operations or financial stability of Telegraph Media Group."
The statement said the Telegraph was performing "extremely well".
Lloyds Banking Group is understood to have appointed Alix Partners as the official receiver, and the merchant bank Lazard to start exploring a sale.
David and Frederick Barclay bought the Telegraph Media Group (TMG), the parent of the newspapers, in a £665m sale in 2004. It is understood the proceeds of a sale are unlikely the group's debts to Lloyds.
The money owed was originally lent by the Halifax Bank of Scotland group (HBOS). Its profligate lending pushed the group into a forced merger with Lloyds in 2008 and a government bailout.
Alix Partners and Lloyds Banking Group both declined to comment.