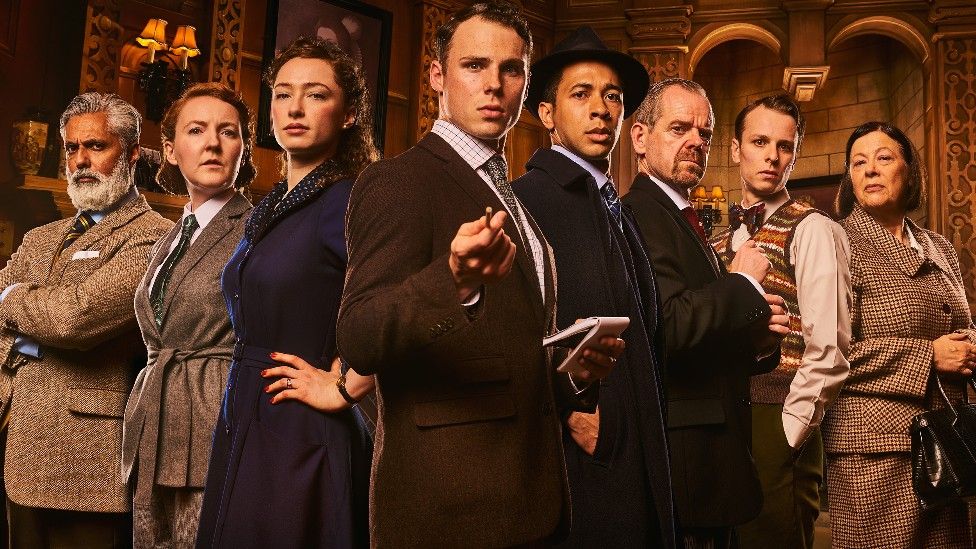 Image source, The Mousetrap
Image caption,
The ending of The Mousetrap - pictured with current London cast - is a carefully-kept secret
By Rebecca Jones and Helen Bushby
Entertainment reporters
The world's longest-running play, The Mousetrap, which marks its 70th anniversary on Friday, is to open on Broadway for the first time next year.
Agatha Christie's whodunit premiered in London's West End on 25 November 1952, and the writer initially thought it might run for only eight months.
But it has since become a West End fixture, being performed almost 29,000 times and seen by 10 million people.
The show has been staged in the US before, but never in New York.
Image source, Getty Images
Image caption,
The Queen met the play's original stars, Richard Attenborough and Sheila Sim, on its 50th anniversary in 2002
Image source, Getty Images
Image caption,
Lord Attenborough posed on stage with a giant cake for the occasion
The Broadway transfer comes after the profile of the play received a boost when it featured in the recent murder mystery film See How They Run.
The movie is set in 1953 against the backdrop of the show's 100th performance, with a starry cast including Saoirse Ronan, Ruth Wilson, Adrien Brody, David Oyelowo and Sam Rockwell.
Image source, Getty Images
Image caption,
Left-right: Richard Attenborough, Sheila Sim, impresario Peter Saunders and Agatha Christie in 1958
Well-known names have been promised for the play's Broadway cast, although they have not yet been revealed.
Its producers have said now is a good time for it to hit New York, given Christie's enduring appeal.
Co-producer Kevin McCollum said he was "thrilled" at the news, adding that he was "excited for the huge Christie fanbase in North America, and for the acting company in New York who will join the esteemed ranks of The Mousetrap alumni".
Details of the venue and dates for the Broadway run have not yet been announced.
Image source, Getty Images
Image caption,
The cast for the show's 50th anniversary included Lisa Barry and Matthew J Wilson
Image source, Getty Images/Mirrorpix
Image caption,
Attenborough and Sim posed with 20 of the show's leading ladies in 1973
Image source, Getty Images
Image caption,
It opened in 2010 in Shanghai, China, in the first production outside the UK by the London production house
On Friday, there will also be a special midday matinee performance in London for some of the people who have worked on or been involved in the production in the past.
A 70th anniversary touring production of The Mousetrap started in September and will visit more than 70 venues throughout the UK and Ireland to mark its milestone.