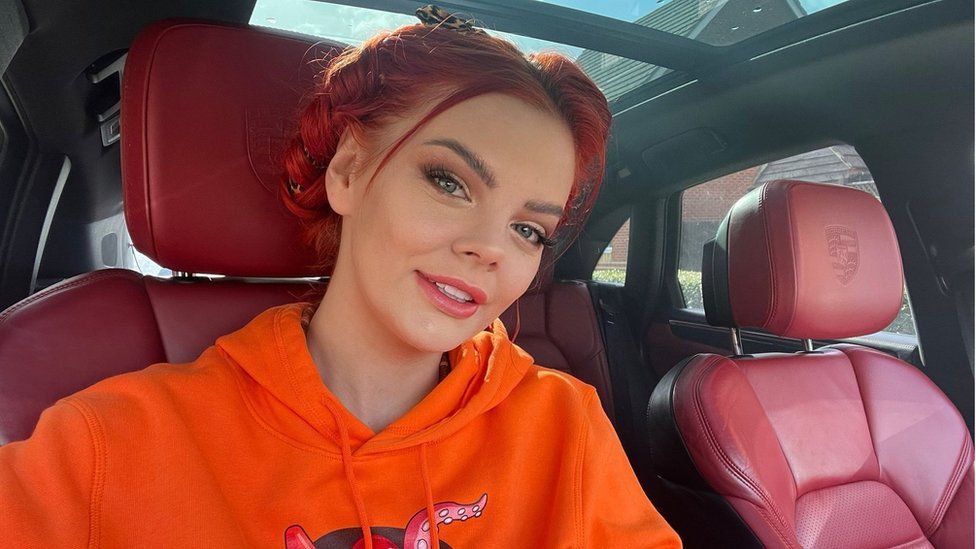 Image source, Rebecca Goodwin
Image caption,
Rebecca Goodwin now earns $34,000 a month on OnlyFans
By Annabel Rackham
BBC News
After it was reported that an unnamed OnlyFans creator had claimed tax relief on breast enhancement surgery, the accountant who filed the return has said she was "surprised" to see it making headlines.
Rachel Martin runs a chartered certified practice with her husband James and says that, as her client list is not limited to content creators, she is not used to media attention.
OnlyFans is a subscription-based website where you pay a monthly fee to access content from creators. It is not exclusively a platform for adult content, but Rachel's client is involved in that industry.
It was described as "the first known case of its kind" by the Mail on Sunday, but the BBC has spoken to another OnlyFans creator who claimed cosmetic dental work and breast implants successfully as a business expense in her HMRC tax returns, following surgery in 2020.
Those using the website do not qualify as employees, so are required to submit self-employed tax returns to HMRC and can therefore claim back business expenses.
Rachel tells the BBC this is an "exceptional case" and says coupled with "content creation being pretty new in the eyes of HMRC" it has been quite complicated to work on.
Image source, Getty Images
She says she used HMRC guidance for actors and other entertainers - which stipulates any business expense must be proven to have no personal benefit to be accepted.
An HMRC spokesperson told the BBC: "While guidance on the interpretation of tax legislation is available, we don't provide assurances for specific cases."
Despite some successful claims, HMRC added: "It's very unlikely that a non-health related operation would be an allowable expense when calculating profits."
But Rachel says she stuck to the guidelines around expensing items that would directly improve how much money her client could make.
"The criteria for this specific client was that improving her appearance would increase her income, which has since been evidenced," Rachel says.
James added: "The thing people aren't understanding with this type of breast augmentation, they think it's a perfectly normal surgery but this wasn't a normal operation, this has put them in a niche."
Image source, Rebecca Goodwin
Image caption,
Rebecca is 29 and based in Derbyshire
Rebecca Goodwin, 29, has been an OnlyFans adult content creator for four years and tells the BBC she had breast enlargement surgery in 2020 to improve her income on the site.
"I wouldn't have had a boob job if it wasn't for doing this, I was feeling quite insecure and had to meet people's beauty standards," she says.
Rebecca, who is not a client of Rachel and James Martin, said her accountant "recognised instantly" the surgery she'd paid for could be classed as an expense when she filed her tax returns in 2021.
"That was the part that shocked me the most, that cosmetic surgery comes under this [as an expense]," she adds.
Rebecca, who is a single mum with two young children, says before her surgery she made $12,000 (£9,800) a month but this jumped to $34,000 (£27,800) a month after debuting her new look.
She says it's important that people don't see this as an incentive "to get into the industry just to have cosmetic surgery".
"I do think there should be guidelines, although I don't think anyone would go to the extent of setting up a company just to get a boob job," she adds.
But, she says entering the industry "has completely changed" her life and allowed her to set up affordable housing for people in her local community.