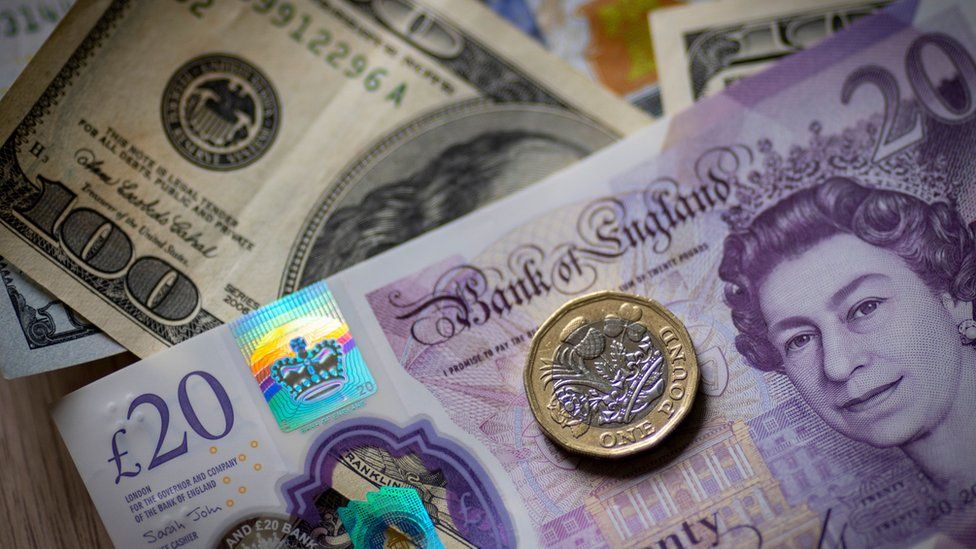 Image source, EPA
Government departments will be asked to make cuts to help balance the budget, the BBC has been told.
Chief Secretary to the Treasury, Chris Philp, will write to government departments in the coming days about finding spending efficiencies.
The Treasury has rejected calls to abandon last week's mini-budget in the face of market turmoil.
The value of the pound dropped to $1.05 on Wednesday, after the Bank of England stepped in to stabilise the economy.
Labour has called on ministers to ditch the mini-budget after it sparked a fall in the pound and a surge in borrowing costs.
But Financial Secretary to the Treasury Andrew Griffith said they were the "right plans" to grow the UK economy.
He claimed "every major economy is dealing with exactly the same issues".
Mr Griffith said the £45bn package of tax cuts announced last week would repair "underlying problems in the economy".
He added the Bank of England had "done their job" by announcing it would buy government debt to stabilise the economy.
Media caption,
Watch: Treasury Minister Andrew Griffith was asked whether the government was responsible for market turmoil
Mr Griffith is the first minister to comment on the market turmoil in the last few days that saw the pound drop to record lows against the dollar.
Chancellor Kwasi Kwarteng, who unveiled the tax-cutting package last Friday, is yet to speak publicly on the effect of the package on markets.
The Treasury said the plans would be funded by £72bn of borrowing and there is an expectation this will surge as interest rates rise.
Strong balance sheet
Julian Smith became the first former cabinet minister to call for the government to "make changes".
The former Northern Ireland Secretary, who backed Rishi Sunak to become prime minister, tweeted: "It is critical that the government is honest about the current situation and plays its part in stabilising markets.
"It can keep a growth plan but needs to make changes. Not doing so will only continue further stress and strain on UK citizens."
Speaking to broadcasters, Mr Griffith insisted the UK had a "very strong balance sheet" and one of the lowest debt to GDP ratios of major economies.
Asked whether the government had any plans to change Friday's measures, he replied: "We think they're the right plans, because those plans make our economy competitive".
"At the end of the day, that's ultimately what we've got to do," he said, saying ministers were focused on "getting on and delivering" its plans.