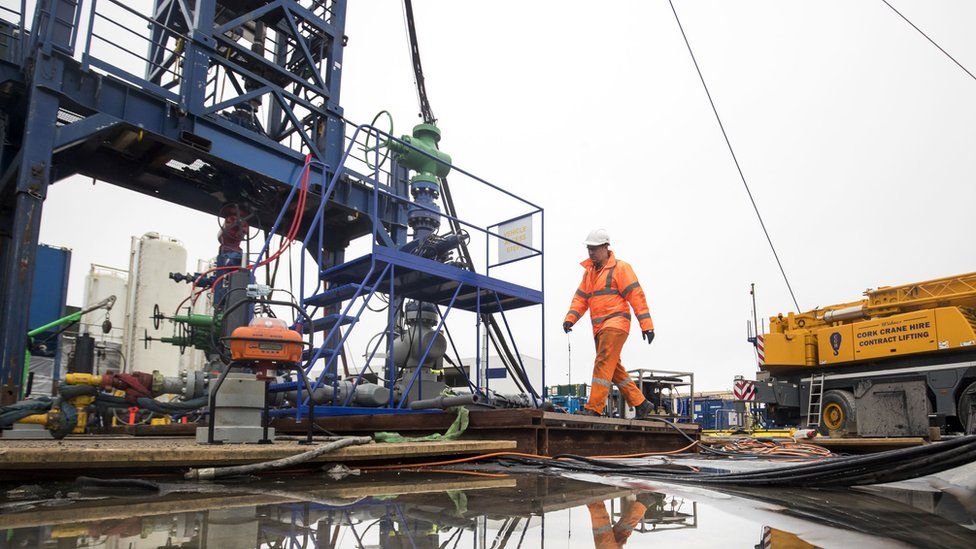 Image source, Danny Lawson/ PA Wire
Fracking can go ahead in the UK, the government announced on Thursday, lifting a moratorium on the controversial process.
The decision comes alongside the publication of a new scientific review into the practice by the British Geological Survey (BGS).
The BGS has concluded there is still a limited understanding of the UK's shale reserves and the drilling impacts.
Fracking is a way of mining gas and oil from shale rock.
A moratorium on fracking was put in place in 2019 following concerns over earth tremors.
But with the energy crisis worsening globally and world leaders scrambling to secure energy supplies, the question has been reopened.
"In light of (Russian President Vladimir) Putin's illegal invasion of Ukraine and weaponisation of energy, strengthening our energy security is an absolute priority", Business and Energy Secretary Jacob Rees-Mogg said in a statement announcing the end of the ban.
Fracking in the UK has been a controversial subject within local communities and amongst MPs due to its association with minor earthquakes.
Alongside the announcement on Thursday the government hpublished a new review, commissioned in April, from the British Geological Survey (BGS) which considers any changes to the science around the practice.
On the risk of larger tremors from fracking the report concludes: "Forecasting the occurrence of large earthquakes… remains a scientific challenge for the geoscience community."
Within shale rock there can be small faults and areas of stress. During drilling, water is injected into the rock to extract the gas. The water lubricates the shale rock, moving parts of the rock along these faults. This movement can trigger a tremor.
The BGS points out that although there has been progress in identifying these faults there is limited exploration and therefore "it is not possible to identify all faults that could host earthquakes with magnitudes of up to 3…even with the best available data".