By Kevin Peachey
Personal finance correspondent, BBC News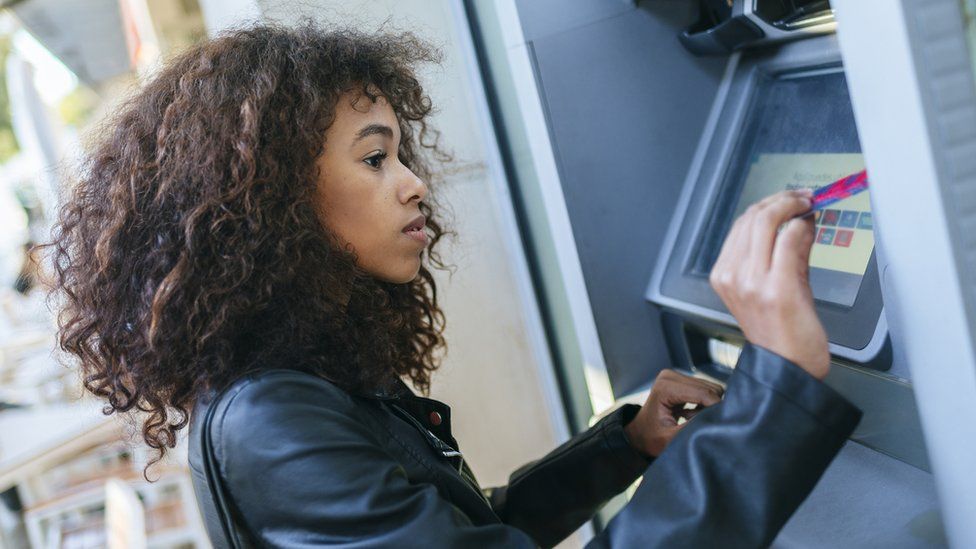 Image source, Getty Images
The fall in the value of the pound has led to predictions that the Bank of England will raise interest rates sharply.
The pound dropped following the government's decision to cut taxes and borrow more.
How high could interest rates go?
On 22 September, the Bank of England raised rates by 0.5 percentage points to 2.25% - the highest level for 14 years.
They could reach 6% next year. That estimate is based on the prices investors are paying to borrow money, according to data provider Bloomberg.
There were suggestions the Bank could call an emergency meeting to hike rates.
Following the speculation, the Bank released a statement saying it will make a full assessment at its next meeting of its Monetary Policy Committee (MPC), which is scheduled for 3 November.
It added that it would "not hesitate to change interest rates by as much as needed to return inflation to the 2% target".
How do interest rates affect me?
Just under a third of households have a mortgage, according to the English Housing Survey.
Of those, three-quarters have a fixed mortgage, so will not be immediately affected.
The rest - about two million people - will see their monthly repayments rise.
The decision to raise rates to 2.25%, means those on a typical tracker mortgage will have to pay about £49 more a month. Those on standard variable rate mortgages will see a £31 increase.
The higher interest rates go, the higher those monthly payments will go.
New house buyers, or anyone seeking to remortgage, will also have to pay more.
This comes on top of increases following previous recent rate rises. Compared with pre-December 2021, tracker mortgage customers will be paying about £216 more a month, and variable mortgage holders about £163 more.
Bank of England interest rates also influence the interest charged on things like credit cards, bank loans and car loans.
Lenders could decide to increase these fees if interest rates rise again.
Individual banks usually pass on any interest rate rises to customers.
Savers get a higher return on their money, and there is now more competition in the savings market.
However, for people putting money away, interest rates are not keeping up with rising prices.
Why does raising interest rates help lower inflation?
The Bank has been putting rates up to combat rising prices - known as inflation.
Prices are going up quickly worldwide, as Covid restrictions have been eased and consumers spend more.
Many firms have problems getting enough goods to sell. And with more buyers chasing too few goods, prices have risen.
There has also been a very sharp rise in oil and gas costs - a problem made worse by Russia's invasion of Ukraine.
One way to try to control rising prices - or inflation - is to raise interest rates.
This increases the cost of borrowing and encourages people to borrow and spend less. It also encourages people to save.
However, it is a tough balancing act as the Bank does not want to slow the economy too much.
Since the global financial crisis of 2008, UK interest rates have been at historically low levels. Last year, they were as low as 0.1%.
Why are people talking about more rate rises now?
The mini-budget of 23 September was followed by a sharp fall in the pound.
Investors are worried that the UK government is borrowing too much.
The fall in the pound is a problem because a weak pound makes it more expensive to buy imports - from crude oil to food.
That pushes up prices and so the Bank may feel it has to put up interest rates to push inflation back down.
That's why economists are now talking about rates peaking at over 6%.
Are other countries raising their interest rates?
The UK is affected by prices rising across the globe. So there is a limit as to how effective UK interest rate rises will be.
However, other countries are taking a similar approach, and have also been raising interest rates
The US central bank has announced big rate rises in the past few months. Other central banks around the world have also raised rates.
How will you be affected by any change to interest rates? Share your experiences by emailing haveyoursay@bbc.co.uk.
Please include a contact number if you are willing to speak to a BBC journalist. You can also get in touch in the following ways:
If you are reading this page and can't see the form you will need to visit the mobile version of the BBC website to submit your question or comment or you can email us at HaveYourSay@bbc.co.uk. Please include your name, age and location with any submission.