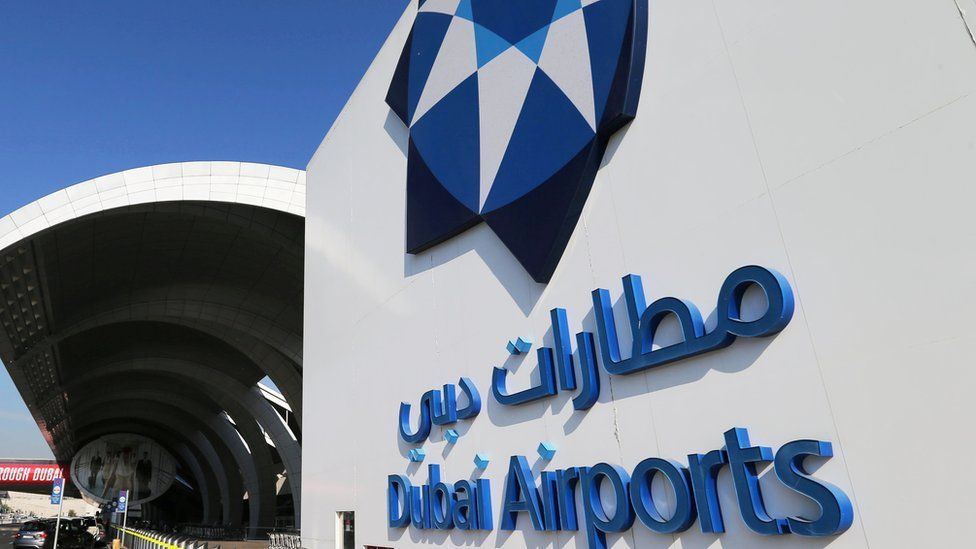 Image source, Reuters
Image caption,
Fans have been left stuck at Dubai airport, unable to board their flights to Qatar
Dozens of Wales fans have been turned away at Dubai airport and will miss the crucial World Cup game against Iran.
A "glitch in the system" has meant that many supporters' Hayya cards - the permit needed to enter Qatar for the tournament - have not been accepted.
He said he expects that hundreds more could be facing the same issues.
Hywel Price from Cardiff has been staying in Dubai - like many other Wales fans - and had travelled to Doha earlier this week without any issues for the Wales v USA game.
However, on Friday morning he was told he could not board his flight as the permit was still pending on the app.
He said: "We got up at 02:30 this morning to travel in a taxi to the airport for a 06:30 flight, but when we got there we were told by officials that our Hayya cards had been rejected.
"It's hellish - there were 13 of us from Wales on that flight having the same issue, and trying to prove that we had been approved to travel, even though the app still said the permit was pending.
"People have had emails saying that their cards were valid, only to find when they get to the airport that they have been refused entry".
'Money wasted'
Mr Price said many people are unhappy, especially due to the financial losses.
"I think this must be happening on a much wider scale than what happened to us this morning, and I expect this might continue all morning as more fans attempt to travel over to Doha for the game," he added.
"The Red Wall will be smaller, I'm sure hundreds of fans might be faced with missing the game.
Myself and one of my mates turned away. We were due to fly at 6.20 am and in the 3 hours I spent in airport spoke to loads in the same situation. People on Qatar Airways allowed to fly with permits pending. Something needs to be done before England match. Total shambles.
— Wil Evans (@WilEvans6)
November 25, 2022
"It's not secret that it's expensive to come out here, we will have lost everything.
"To be fair no insurance company would cover this, it's the individual's responsibility to check that they've got the paperwork in order. The money will be wasted, the tickets and flights were very expensive.
"With the next game happening next week, I'm checking the Hayya card all the time, but it still isn't working this morning."