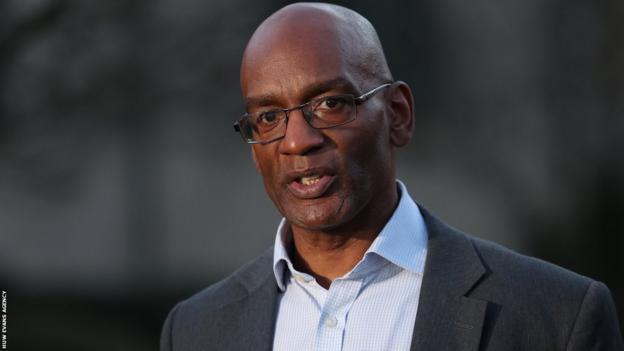 Nigel Walker became a Cardiff and Wales rugby player after an international career as a 110m hurdler
Acting Welsh Rugby Union (WRU) chief executive Nigel Walker denies the game in the nation is "broken".
The former Wales wing's assertion came at a Welsh Affairs Select Committee (WASC) hearing at Westminster.
WASC chairman Stephen Crabb posed the question and Walker replied: "I don't think I'd use the word 'broken'. It is in need of a reset."
Walker also said the WRU aims to keep rugby free to air in Wales, saying: "We have resisted that temptation."
MPs seemed concerned that fewer and fewer live games would be free to air in future and questioned Walker about the importance of broadcast revenues.
"It is very important," Walker said. "It is about 40% of the income that's received. It's also the vehicle of transmitting the game to the whole of Wales."
Walker accepts there is "always a tension between free to air… and the revenue raised".
He added: "There is no desire for the appeal of money to overtake our responsibilities to make as many games as possible free to air."
Wayne David MP underlined his concerns, saying: "Given the difficulties, we are likely to see that pressure, that tension, to be more and more acute."
Walker replied: "It would have been relatively easy for us to continue to pay monies which we couldn't afford and hope that CVC [the private equity firm that has invested millions in rugby] monies or equivalent are going to bail us out.
"We've taken these steps to cut our cloth accordingly. It has been incredibly uncomfortable, and we've received a huge amount of criticism… but we're not about to sell the game to the highest bidder."
In May, Cardiff Rugby chief executive Richard Holland said the Welsh team were seeking fresh funding "to solve cashflow problems".
Like Scarlets, Dragons and Ospreys, Cardiff are in the process of reducing squad numbers and overall salary outlay as the four leading teams in Wales work to a salary cap for 2023-24 of £5.2m, reduced to £4.5m the following season.
That was part of a six-year deal signed in March between the WRU and Wales' four professional teams.
The deal requires Welsh Government approval and support from financiers, factors that have yet to be formalised, along with Dragons reverting from WRU to private ownership.
In the wake of that deal being announced, Walker said that without it one or two of the teams could have gone bust.
Walker told WASC that Welsh rugby's professional tier "has to reset, the funding models have to change, the salaries paid to players have to be reviewed".
A stark warning of the game's finances has come from across the border, with London Irish the latest English Premiership club to fail, following the demises of Worcester Warriors and Wasps during 2022-23.
Welsh teams set to train against each other amid squad cuts
Welsh regions still waiting for first cash instalment of new financial deal
Walker said: "It was devastating news earlier in the season when Worcester and Wasps went bust and ceased to operate and... last night with London Irish going the same way. None of us in Europe are immune to the challenges.
He added: "We've been going through that process. It's been an uncomfortable process, but we announced early in January a six-year framework for professional club rugby, regional rugby in Wales, and that reset started then.
"As I say, it's uncomfortable, many people will say 'why should the players bear the brunt of it?'
"It's not the players' fault - it's simply that administrators have got, and if I can use the expression, carried away, and the wages have spiralled out of control.
"And what we're seeing and feeling, coupled with Covid - because that's still having an impact - these two things together have meant the game was becoming unsustainable."
Crabb asked whether the reset was likely to lead to a reduction of Welsh professional teams from four to three.
Walker said: "That was debated by the Professional Rugby Board, and it was decided we would proceed with four. The reset is based on four regions."