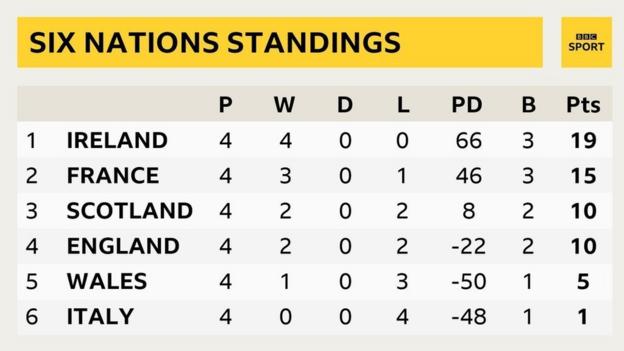 Ireland's Grand Slam ambitions remain intact after victory against Scotland in round five of the 2023 Six Nations, but France can still snatch the title.
Should Ireland beat England on Saturday, they will win a first Grand Slam since 2018. If they lose, the title may depend on France's result against Wales earlier in the day.
If France lose to Wales, the title will be Ireland's before they even kick off against England and the party can begin early in Dublin.
Here are all the permutations.
How can Ireland win the 2023 Six Nations title?
Victory against England will seal a Grand Slam for Ireland and beyond that, it gets a bit complicated.
A draw against England would put Ireland on 21 points at the top of the table, beyond France's reach given they go into the final weekend on 15 points and a maximum of five points are available each match.
Ireland could also stay top with two bonus points in defeat. If they were to lose to England by seven points or fewer and score four tries in the process, they would end the weekend on 21 points.
Even if France win, Andy Farrell's team could take the title if they lose and earn one bonus point, but that would depend on them staying ahead of Les Bleus on points difference - where the gap is 20 currently.
If Ireland lose to England and do not earn any bonus points, they could still stay ahead of a victorious France on points difference as long as the latter do not earn a bonus point by scoring four tries or more.
Sexton focused on taking emotion out of Six Nations swansong
How to follow the final round on the BBC
How can France win the 2023 Six Nations title?
France will put pressure on Ireland if they earn a bonus-point win against Wales in Saturday's second fixture, with Ireland v England the last match of the tournament.
France's current points difference is 46 to Ireland's 66 so if they were to beat Wales by more than 20 points with a bonus point, Ireland would need at least a draw or two bonus points against England.
If France beat Wales without claiming a four-try bonus point, they would need Ireland to lose without earning any bonus points.
If France win without a bonus point, they would need Ireland to take no match points from the England game and Les Bleus would have to surpass the Grand Slam seekers on points difference.
What has gone wrong for England - and what next?
What about the other teams?
Scotland and England are currently both on 10 points, with Scotland ahead on points difference.
Scotland could surpass France to take second in the table if France take no bonus points from the weekend and Scotland take a maximum five points and close the points difference gap of 38 with Les Bleus.
England also have an outside chance at second in the table. They would need France to lose without a bonus point and themselves would need to take a maximum of five points from their game in Dublin as well as closing the points difference gap of 68 with France and finishing ahead of Scotland on points difference too.
The maximum number of match points Wales can finish on is 10 and they would need a huge victory against France and other results to go their way to climb to their highest possible position of third.
With victory against Scotland in Saturday's opening fixture, Italy could yet condemn Wales to the wooden spoon position of sixth, should Warren Gatland's men lose to France later in the day.
Subscribe to the Rugby Union Weekly podcast