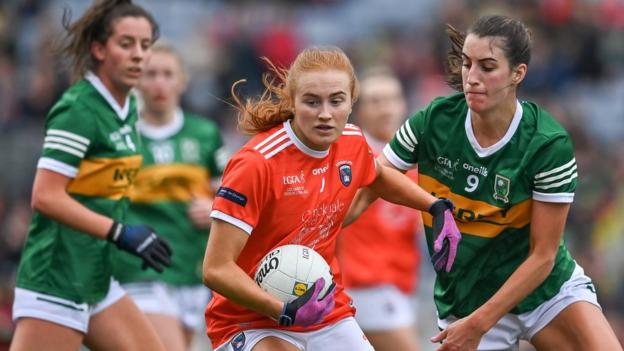 Armagh and Kerry have changed the colour of their shorts from white to black
"It obviously impacts your body already with regards to your performance so how you look is one thing that you should not have to worry about. Changing the shorts completely takes away that concern."
Armagh's Blaithin Mackin is beaming when speaking about her county's decision to become the latest in a string of GAA teams in Ireland to change the colour of their shorts from white to a darker colour.
The Orchard County, like Kerry's ladies team, will wear black shorts in the Ladies National Football League this year, while the Ireland women's rugby team and Linfield Women are examples of how the trend is occurring across several sports.
The trend centres on an issue which has and will continue to plague female players: their period.
A woman's period can be an incredibly difficult time of the month. From crippling cramps, to bloating, the effects vary from woman to woman.
The one constant for every woman, however, is the fear of leakage from heavy bleeding. This is only amplified for female athletes who wear white shorts while competing.
Female athletes back #SayPeriod campaign
Positive change
Mackin, who plays for Aussie Rules side Melbourne Demons alongside her GAA commitments, explains how the decision to move to black shorts eliminates this additional stress.
"We are all delighted as it takes a weight off your shoulders," Mackin told BBC Sport Northern Ireland.
"We've been in white shorts for a long time so we're used it it, but it definitely does have an impact on you and creates a worry that you don't need.
"Black shorts take that worry away from you when it reaches that certain time of the month and your period comes.
"When you're on your period you're always checking to make sure [that you haven't leaked] and getting other people to check, so you're feeling quite uncomfortable which isn't ideal when you are trying to perform at the highest level."
The 24-year-old admitted that the switch had been a long time coming for the Orchard County, with fear over losing the Armagh identity a key factor in preventing it from happening sooner.
"I think it was a combination of players and management," added Mackin, who was part of Armagh's Ulster-winning team last year before joining Melbourne.
"Some of the players approached the committee, they took it on board and made the decision to change.
"Over the years we have aired our concerns and eventually it's come to light this year so it's great.
"We probably thought it would never happen as orange and white was our kit. They were Armagh colours and the worry was that it wouldn't look like Armagh, but they have done a great job."
'It makes you feel like you are being listened to'
Mackin also believes the decision has empowered the players, and will have a positive knock on effect on other counties and clubs.
"It makes you feel like you are being listened to, and that is probably the feeling for everyone at teams who have decided to make the same change as us.
"It's nice to know that your opinion is being taken on board and it builds that trust between the players and committees.
"I think there will be a domino effect now. My club are already talking about it as well after seeing Armagh's decision.
"I know people have probably thought about it internally, but not every club or county will have players who will want to say it as they don't feel comfortable enough to give their opinions.
"I think Armagh and other counties doing it and publicising on social media will even make other people aware and start the conversation between committees and players of, 'Is this something you want or have thought about as an option?"
The ALFW, in charge of Australian Rules Football, the sport which Mackin plays in Melbourne, have been the most forceful in dealing with the issue, having banned white shorts for all teams in the league.
Camlough native Mackin feels it is "only a matter of time" before the LGFA and other sporting bodies bring in similar rules.
Stigma still exists
Mackin also hopes that Armagh's decision to change the short colour for underage groups to navy will enable more girls to stay involved in the sport at underage level.
An Adidas survey in 2021 stated that, "one in four girls drop out of sport during adolescence, citing fear of period leakage" as a key factor.
"Obviously there is a stigma around your period, especially for young girls who are probably more worried and conscious of it," Mackin said.
"As adults you can cope with it a bit better but at underage, it is probably more of a worry for younger girls.
"In their teenage years you see more girls dropping off and obviously there is going to be other reasons for this, but this [short colour] is one thing within the county's control on that issue.
"I think Armagh making that step will completely eliminate that factor which should help make the girls feel more comfortable when playing for Armagh."
From white to navy
Of course, the changing of shorts colour is not limited to just GAA sides.
It was recently announced that Ireland women's rugby team will now wear navy shorts as opposed to the traditional white shorts that they had previously worn to mirror their male counterparts.
Head of Women's Performance at IRFU, Gillian McDarby, believes that the federation are "doing everything in our power to make the girls' experience better."
Speaking on the BBC Radio Ulster's Lynette Fay Show, McDarby said, "When we were looking at kit for this season the players actually highlighted that they had an issue and they asked us if we would consider changing to navy.
"We listened to the players and consulted with Canterbury. We want to remove anxiety and create a confident environment, where the shorts don't actually have an impact on their performance.
"That is something really small that is going to have a huge impact" McDarby said.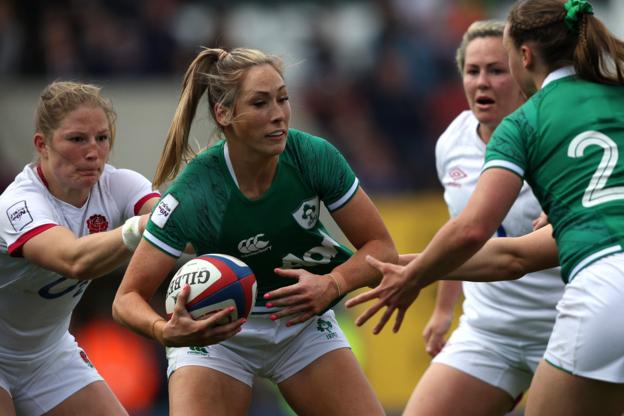 Ireland Women will now wear navy shorts as opposed to white.
All change at Linfield
In football, Linfield Women have confirmed that they will ditch their traditional white shorts the new season.
They were the only side in the Women's Premiership who wore white shorts with their home kit.
"We have responded to concerns around player anxiety when playing and training during menstruation. Going forward our players will wear darker coloured shorts to help with the issue," said club secretary Neil Morrow.
The list of teams making the decision to stop wearing white shorts only grows longer and this global movement of tackling periods in sport is rapidly gaining traction, particularly across Ireland.