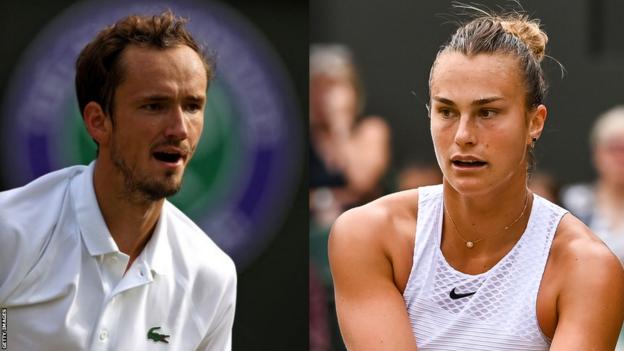 Russian men's world number six Daniil Medvedev and Belarusian women's world number two Aryna Sabalenka are the highest-ranked players from the two nations
Wimbledon remains concerned Russian and Belarusian leaders might look to use success of their nations' players in this year's championship as propaganda.
They must sign declarations indicating their neutrality before entering.
"The neutrality declarations are focused on trying to reduce that as much as possible," said Wimbledon chief executive Sally Bolton.
Ukraine foreign minister Dmytro Kuleba has described the U-turn by Wimbledon as "immoral" and called on the UK government to deny visas for Russian and Belarusian players.
"Has Russia ceased its aggression or atrocities? No, it's just that Wimbledon decided to accommodate two accomplices in crime," he wrote on Twitter.
Wimbledon lifts ban on Russian & Belarusian players
Medvedev becomes first man since 1981 to reach fifth straight final
Asked by BBC tennis correspondent Russell Fuller if the decision opens the door for Russia and Belarus' leaders to derive benefit from any success, Bolton replied: "That remains somewhat of a concern."
But Bolton believes the conditions set out by Wimbledon, worked through with the government and agreed by them, will limit that prospect.
"Russian and Belarusian athletes that compete this year will be signing a neutrality declaration that requires them not to express support for the invasion or the regimes, not to be financially supported by the regimes or companies closely linked, and compete as neutrals without the flag or country name associated."
Russian former men's world number one Daniil Medvedev said he was pleased with the decision, while 2021 Wimbledon quarter-finalist Karen Khachanov indicated he had no problem signing the neutrality declaration.
"Basically we just keep doing the same like in all other tournaments. It's nothing different," said Khachanov after losing to Medvedev in the Miami Open semi-finals.
"I don't have sponsorships now in Russia."
Bolton said the AELTC had "engaged" with Ukrainian players about the decision and had more talks planned with them.
"We appreciate it is an incredibly challenging time for them as they compete on the tour but they have been competing on the tour alongside Russian and Belarusian athletes for a year.
"Our position on Russia's invasion hasn't changed, we absolutely condemn that and our wholehearted support remains with the people of Ukraine."
'Amid sympathy, the message is clear' - analysis
Russell Fuller, BBC tennis correspondent
Amid sympathy for the people of Ukraine, and condemnation of the Russian and Belarusian governments, the message from Wimbledon and the LTA is clear.
The consequences of barring these players for a second summer would be too "damaging and far reaching" for British tennis, in a sport in which no-one followed their lead.
A large majority of players were against the ban - uncomfortable with the principle that an athlete could be prevented from earning a living because of the actions of their government.
Russians and Belarusians have been able to compete in the other Grand Slam cities of Melbourne, Paris and New York.
The men's ATP Tour and the women's WTA Tour spoke as one.
Ranking points were removed from last year's Wimbledon, and the LTA was heavily fined. There was the threat of further financial penalties and the prospect of Queen's Club having to continue its long history as an exhibition event, should the ban persist.
And so Russian and Belarusian players will now be able to compete in the UK, just as they are elsewhere in the world.
They will first need to sign a declaration which makes clear they are happy to compete as neutral athletes, are not receiving state funding, and will not show any support for the Russian invasion.
The potency of this precondition is highly debatable and it remains to be seen what action would be taken if, for argument's sake, a Russian player sported a Spartak Moscow shirt on the players' lawn at Wimbledon.
Ukraine's Lesia Tsurenko said a panic attack was the reason for her withdrawal from a recent match against Belarus' Aryna Sabalenka in Indian Wells. She talks of an "ethical conflict" when a Ukrainian is drawn against a player from either Russia or Belarus.
And with the International Olympic Committee keen to allow athletes from these countries to compete at next year's summer Games in Paris, Ukrainian players must feel as if an extremely painful bruise is being punched repeatedly.
Ukrainian Foreign Minister Dmytro Kuleba says he will ask the UK government to deny visas to Russian and Belarusian players, but there is virtually no prospect of that. The government draws a line between athletes who are representing their country and "individual, self-funded" competitors.
UK Culture Secretary Lucy Frazer says she supports the approach of the All England Club and the LTA - as the guidelines issued to sporting organisations have been followed. A muted response from the political class will suit those running British tennis just fine.
The verdict of the British public will be of great interest, however. Last April, according to a YouGov poll, 69% supported the All England Club's ban.
To what extent will that have changed as people balance the desire to show solidarity for Ukraine with the practical and commercial realities of modern society?
Live scores, results and order of play
Alerts: Get tennis news sent to your phone


The dangerous rise of Andrew Tate:
Enter the world of the social media personality's multi-level marketing scheme and webcam business
Stealing it was only the beginning...:
Glittering drama based on the audacious Brink's-Mat security depot heist