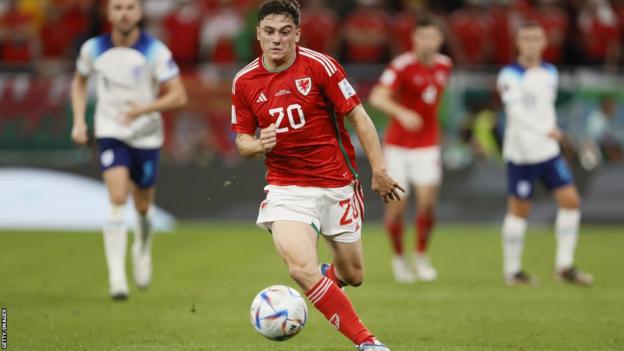 Daniel James has only started five Premier League games for Fulham this season
Wales boss Robert Page says "key player" Daniel James is "disappointed and frustrated" about his lack of playing time at loan club Fulham.
The 25-year old Leeds forward has been an infrequent contributor for Fulham and has only played 28 minutes in the Premier League in three games in 2023.
Page believes James "still has the talent" that saw him earn a transfer to Manchester United in 2019.
"DJ's fine but disappointed he's not playing, of course he is," Page said.
"He's gone there [to Fulham] to play games of football and he finds it frustrating that's he not getting the minutes he would like.
"It's not what we want, but over the last two years it's something we've been used to.
"He's disappointed not to be playing but he's ready for this camp and he's really looking forward to getting going.
"DJ has still got the same ability and talent when he went to Man United."
Aaron Ramsey named new Wales captain
New Wales captain Aaron Ramsey wants to reach 100 caps
James joined Manchester United from Swansea in 2019, scoring nine goals in 74 appearances for the Red Devils over two seasons before moving to Elland Road for £25 million.
Page feels James, who has remained important for Wales, featuring in all three of their World Cup games in Qatar, was mismanaged in his time at Old Trafford.
"He's a key player for us. He's still got the same ability and he's still the same talent. There's a lot to manage in there," Page said.
"The difference in expectation from being in a Swansea team to a Man United team is chalk and cheese. At times they can be mismanaging players.
"DJ went into a club that was expected to win games. When he was scoring goals and creating chances he was brilliant.
"When it doesn't quite happen there's a time where you have to pull a young player out and protect him a little bit knowing that his form is going to be inconsistent.
"You have to accept that. I think a young player could be managed a little bit differently going from the Championship to the Premier League with no doubt there was going there was going to be a little dip in form."
James moved to Elland Road for more first team football but saw the manager who signed him, Marcelo Bielsa, sacked during the season.
He then chose a loan move to Fulham over a switch to Tottenham in pursuit of more first team football, but Fulham's surprising form has limited his opportunities.
"I think the Leeds move was because they had showed interest before so they were adamant they were going to get him that time," Page said.
"It was another big club and it's not quite worked out for him.
"My job now is to get him back up to the levels he's shown before because we know we've got a great asset in DJ with his pace."


LEGENDS OF WELSH SPORT:
How Tanni Grey-Thompson became one of Britain's most successful Paralympians
POWER TO THE PEOPLE:
The X-Ray team investigate your consumer complaints