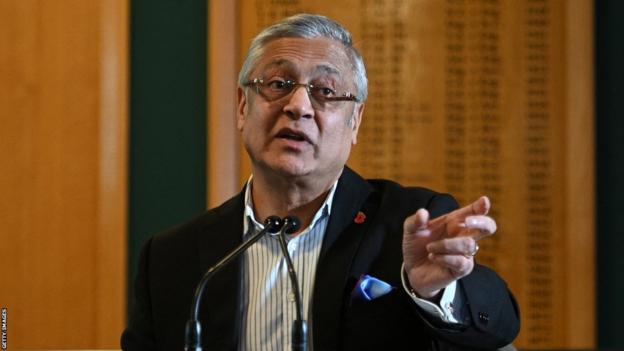 Former chair Lord Patel oversaw extensive changes at Yorkshire after taking over amid the fallout from Azeem Rafiq's allegations
Yorkshire have a "really strong" shortlist of candidates to succeed Lord Patel as chair and hope to appoint someone "shortly", says interim chair Baroness Tanni Grey-Thompson.
Patel stepped down following the club's annual general meeting on Friday, with Grey-Thompson taking over until a replacement is found.
Former chairman Colin Graves has said is he interested in returning.
"We have to ensure there is an open, robust process," said Grey-Thompson.
"That process has kicked in - we're interviewing, the candidates are scored against a number of criteria and we've got to do it transparently."
When asked about the possibility of Graves returning, Grey-Thompson told BBC Radio Leeds it was "not appropriate" to talk about "individual names within the candidate pool".
Grey-Thompson, who won 11 Paralympic gold medals, added: "We've got a really strong shortlist. We've got a number of candidates we're talking to this week and next.
"We're moving at pace because that's the right thing for the club and we're hoping to make an announcement shortly."
Patel, who was not at Friday's AGM for personal reasons, took over in November 2021 after Roger Hutton resigned over the club's response to the Azeem Rafiq racism scandal.
Yorkshire are waiting to find out what sanctions they will be given by a Cricket Discipline Commission (CDC) panel following a hearing into allegations of racism at the club.
Yorkshire have pleaded guilty to four amended charges from the England and Wales Cricket Board (ECB), while former England batter Gary Ballance also admitted liability in response to his charge.
The CDC are aiming to deliver their written judgements in the cases of six other former Yorkshire players who were charged, including ex-England captain Michael Vaughan, by the end of March - though sanctions will follow at a later date.
The potential sanctions against a club include unlimited fine, points deductions and suspension from ECB competitions.
"I honestly don't know what that's going to say," said Grey-Thompson.
"It would be great to hear sooner rather than later, that's when we can take the next steps."
Graves, who was Yorkshire chair from 2012 to 2015, would be a controversial appointment.
Yorkshire have admitted failing to address the "systemic use of racist or discriminatory language over a long period" by employees or players at the club, including during Rafiq's two spells with the county, from 2008-2014 and 2016-2018.
The county owe £14.9m to the Graves Trust, a major creditor of the club. Graves sits independent of the trust, which is overseen by professional trustees.
Yorkshire changed their rules last year to remove the need for written approval from the trustees of the Graves Trust to appoint or remove board members after the ECB made it a key requirement in order to reinstate Headingley's right to host England matches.
Graves, who was also ECB chair from 2015 to 2020, backed the reforms.
Yorkshire chief executive Stephen Vaughan also could not discuss individual candidates but told the Press Association the board are "very open to people that can do well for the club".
The county lost a significant number of sponsors over their handling of the Rafiq scandal, while they also had to agree compensation packages with sacked staff who won claims for unfair dismissal, including former head coach Andrew Gale and ex-bowling coach Richard Pyrah.
The club also opened an independent whistleblowing hotline for victims of discrimination, which Vaughan said would be kept in place "for the foreseeable future" but would eventually be closed because of its "significant" cost.
Grey-Thompson said the club has been reported to be "in a tougher financial position than we are".
She added: "It's really important to bring it back to what it says in the accounts, which is that we're OK."
Grey-Thompson, who was initially appointed co-chair until Patel stepped down, said she was tempted to apply for the permanent role and "would love to do it at some point in the future".
However, she said her "skill-set" and her position as the "board member who has most experience of working in sport" meant she felt the "best thing" to do was be part of the recruitment process instead.