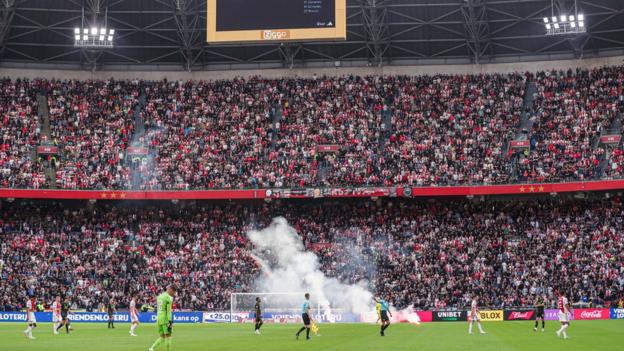 Sunday's match between Ajax and Feyenoord had already been paused twice before eventually being abandoned
The abandoned match between Eredivisie rivals Ajax and Feyenoord will resume behind closed doors on Wednesday, the Dutch FA (KNVB) has confirmed.
Feyenoord led 3-0 after 56 minutes at the Johan Cruyff Arena when the game was stopped as home fans threw flares and fireworks onto the pitch.
The match will be completed at 14:00 local time with no supporters present.
Ajax's match against FC Volendam, scheduled for Wednesday, has been postponed.
In a statement, Ajax said they disagree with the decision to finish the game on Wednesday on fixture congestion grounds and are considering legal action.
The Amsterdam side say the earliest the match should be resumed is during the first week of November, adding that Volendam's participation in the first round of the KNVB Cup at the end of October further complicates matters.
"The competition and cup program is now being adjusted by the KNVB for four clubs due to the completion of an abandoned match. Not only the clubs, but also the supporters are victims of this," Ajax said.
In a statement of their own the KNVB said the game had to be resumed as soon as possible in order to maintain the integrity of the league.
"The basic principle is that the competition must be as fair as possible and that a match should therefore preferably be decided on the field. The match must then be resumed as soon as possible," it read.
The match between the two most fierce rivals in the Netherlands is known as De Klassieker, and had already been paused twice before it was eventually postponed when flares and fireworks landed on the pitch.
A sign on the big screen at the ground had reminded Ajax fans that the "lighting of fireworks is prohibited" but the message was ignored by a section of supporters.
Trouble continued after the game was called off with police using tear gas on fans outside the stadium.
Amsterdam police said that some of the home supporters tried to break back into the ground.
Feyenoord's players and staff had to stay in their dressing room until it was safe to leave. The visitors had not been allowed to have fans at the game.
Ajax, the 36-times Dutch champions, apologised for the behaviour of their supporters, while coach Maurice Steijn called it "a jet black day" for the club.
They are a lowly 14th in the 18-team Eredivisie table as things stand, and failed to qualify for this season's Uefa Champions League after finishing third in 2022-23, 13 points behind champions Feyenoord.