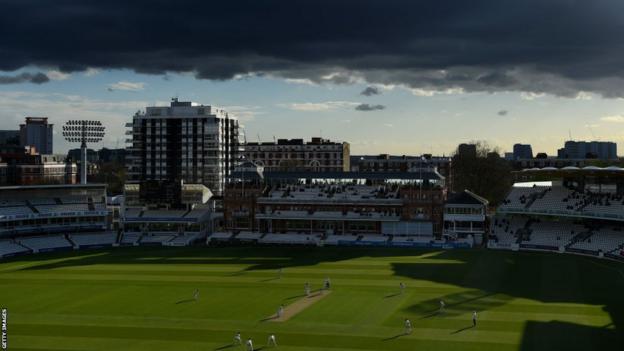 The Independent Commission for Equity in Cricket received more than 4,000 responses to its call for evidence
The England and Wales Cricket Board (ECB) says it wants "to change the game" as it publishes its response to a report detailing racism, sexism, classism and elitism in the sport.
Discrimination in cricket in England and Wales is "widespread" according to the Independent Commission for Equity in Cricket (ICEC).
The ECB response accepts "most" of the ICEC report's 44 recommendations.
They include the creation of an independent regulator for the game.
"The ICEC report was a massive moment for the sport and a responsibility we take extremely seriously, to bring about the changes we all want to see," said ECB chief executive Richard Gould.
"We think we are on a journey to try to change history in terms of what cricket looks like and will look like."
One of the recommendations the report made when it was published in June was for the ECB to issue an unreserved public apology for its failings, which chairman Richard Thompson did immediately.
"I want to double down on our apology to those we have let down and discriminated against," said Thompson on Monday.
"Cricket hasn't got it right in the past, but this is an opportunity to move forwards together. I'd urge everyone to now come together, to put their energy and effort into delivering these actions, and to playing their part in ensuring cricket becomes England and Wales' most inclusive team sport."
With sub-clauses included in the 44 recommendations, the ECB says there are some 137 actions asked of the governing body by the ICEC report.
The ECB says it has a "positive direction of travel" on 94% of them.
Some, such as increasing the match fees paid to England's women for international matches so that they are equal to those paid to England's men, have already been carried out.
However, the ECB stopped short on committing to all of the ICEC's recommendations on equal pay, which include equal average salaries at international level by 2028, equal salaries for The Hundred by 2025 and equal average pay and prize money in other domestic cricket by 2029.
"Growing the demand and audience for women's cricket is crucial to creating the long-term commercial conditions, which will underpin the achievement of our pay parity goal," said the ECB response.
"For all the progress we have seen, the gap between the value of commercial and media rights for the men's and women's games is still vast.
"By creating a thriving, viable and robust future for women's and girls' cricket at every level of the game, we can make real progress in closing that gap."
How did we get here?
The ICEC was announced by the ECB in March 2021 in the wake of global movements such as Black Lives Matter and Me Too.
It opened an online call for evidence in November of that year, receiving 4,156 responses. In March 2022, a call for written evidence resulted in more than 150 responses.
Among those to give evidence include England men's Test captain Ben Stokes, women's captain Heather Knight, former men's captain Joe Root, World Cup-winning skipper Eoin Morgan, and Azeem Rafiq - the former Yorkshire player and racism whistleblower.
The ICEC delivered its findings from the two-year investigation in June, on the eve of the second men's Ashes Test between England and Australia at Lord's.
The 317-report, titled Holding A Mirror Up To Cricket, concluded "structural and institutional racism" exists within the game, women are treated as "subordinate" to men at all levels of the sport, Black cricket has been failed and there is a prevalence of "elitism and class-based discrimination".
The ECB, the subject of most of the recommendations from the report, was given three months in which to publish a response.
What is the ECB's response?
In accepting "most" of the ICEC's recommendations, the ECB said: "Many we will be implementing by the letter - or, indeed, have already implemented. Others we will implement in slightly different ways or to a different timescale, and there are only a small number we will not take forward, which we explain in the report."
As part of its response the ECB said it would:
Invest an extra £25m per year on top above the forecasted revenue of the women's game up to the end of the current broadcast deal with Sky in 2028
Develop an action plan designed to increase the number of state primary and secondary school students playing cricket - a £2m investment split across five charities was announced earlier this month
Establish an independent regulator to deal with matters of anti-discrimination, anti-corruption, anti-doping, misconduct and safeguarding
Work with counties to redefine the talent pathway with the aim of ensuring finance is not a barrier to talent pathway participation
Assess venues that have been allocated the right to stage major matches with regard to their standards of equality, diversity and inclusion, and adjust the allocations if there is evidence of non-compliance
Publish an annual progress report and a full State of Equity Report every three years
The ECB estimates that cost of implementing the recommendations of the ICEC report will run into "tens of millions".
It rejected the recommendation for the appointment of a dedicated EDI (equality, diversity and inclusion) officer and for a dedicated representative for the women's game on the ECB board.
What has the reaction been?
ICEC chair Cindy Butts: 'We are carefully considering the ECB's published response to our recommendations, we will share our considered view when we give evidence to the CMS (Culture, Media, and Sport) select committee."
ECB chair Richard Thompson: "There is no doubt that the ICEC highlighted to great effect the impact of discrimination on individuals and the extent of the systemic challenges to be addressed. This response represents a set of actions that will accelerate and intensify our work to make cricket a game for everyone, actions that cricket can deliver and fund within an achievable timeframe. It builds on a huge amount of work which is already under way right across the network."
Yorkshire chief executive Stephen Vaughan: "We are optimistic that we can continue on our journey to bring about real and lasting change, and whilst there is still a long way to go and much to be done we are committed on our mission and will work with the ECB to do everything we can to learn from the past and use our hard-earned experience to help support other clubs on the journey to improving standards across the game and making cricket a sport for everyone."