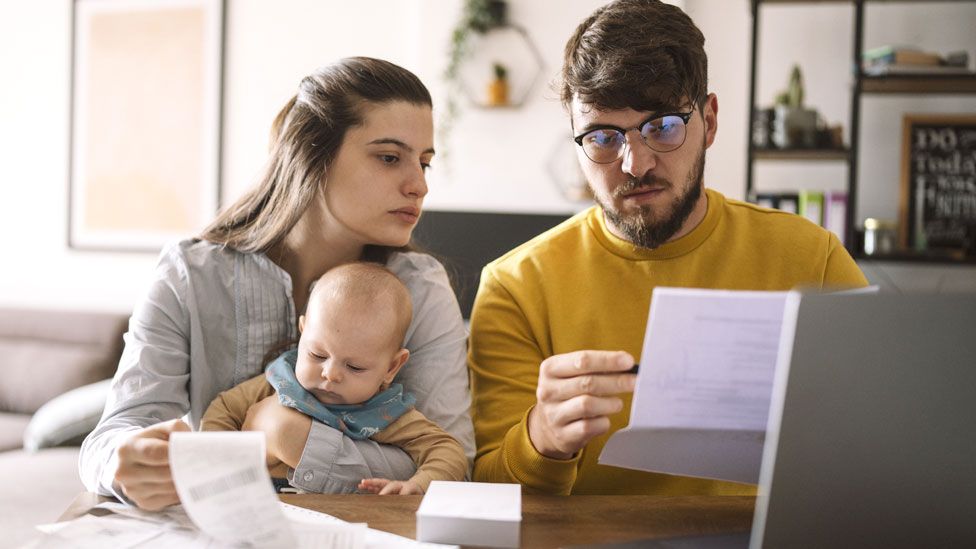 Image source, Getty Images
By Michael Race
Business reporter, BBC News
Annual energy bills for a typical household are expected to rise by £73 in January, a new forecast suggests.
Consultancy firm Cornwall Insight predicts bills could increase to £1,996 under the official price cap set by the UK's energy regulator Ofgem.
The energy price cap limits how much suppliers can charge households for each unit of energy they use.
Cornwall analysts said a rise in January would be largely down to increases in wholesale energy prices.
The rise comes as millions are set to see energy bills fall from 1 October, when the next price cap comes into force.
From October a typical dual-fuel household will pay £1,923 a year until December, which is down from £2,074 in the previous three-month period. However, some government support, which helped with bills last winter, has been withdrawn and bills are still much higher than in 2021.
'Not unexpected'
In its latest forecast for January, Cornwall said it expects bills to near £2,000 again.
Dr Craig Lowrey, principal consultant at the group, said that while it was disappointing to see the trend in energy bills falling over the past year "stall", it was "not wholly unexpected".
"While the rise is small, it shows we cannot just assume prices will continue their fall and eventually reach pre-pandemic levels," he said.
"Policies need to be put in place to deal with the possible situation that high energy prices have become the new normal."
The price of wholesale energy increased as Covid pandemic restrictions were eased, and then rocketed after Russia's invasion of Ukraine last year, causing bills in turn to soar.
The energy watchdog, Ofgem, sets a maximum price that suppliers can charge customers per unit of gas and electricity.
It applies to households on variable or default tariffs in England, Wales and Scotland, but the actual amount paid by customers will vary depending on the amount of gas and electricity they use.
To shield people in England, Wales and Scotland from much higher bills last year, the government introduced a £400 discount for each household, but that scheme has now finished.
However, some groups who may struggle to pay bills are to receive additional help through cost-of-living payments.
Dr Lowrey said dealing with persistently high energy prices would "not be achieved by a one-size-fits-all solution".
He said the government possessed "a toolbox of short- and medium-term options, including targeted support such as social tariffs or investment in energy efficiency", which he argued could ease the burden on vulnerable households.
"However, it is important we understand such assistance cannot overcome the effects of a volatile international energy market on bills," he added.
"It is only by continuing our transition away from fossil fuels, towards secure and sustainable domestic energy sources that we can reduce our exposure to such international drivers and, in turn, stabilise our energy prices."
In an open letter to Prime Minister Rishi Sunak, the group said support would stop people having to face a choice "between heating and eating".
The Department for Energy and Net Zero has been contacted for comment.
What can I do if I can't afford my energy bill?
Check your direct debit:
Your monthly payment is based on your estimated energy use for the year. Your supplier can reduce your bill if your actual use is less than the estimation.
Pay what you can:
If you can't meet your direct debit or quarterly payments, ask your supplier for an "able to pay plan" based on what you can afford.
Claim what you are entitled to:
Check you are claiming all the benefits you can. The independent
MoneyHelper
website has a useful guide.