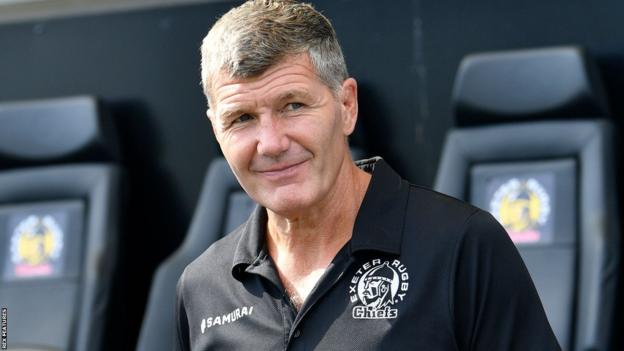 Rob Baxter is the last man to guide a non-Premiership shareholder club to a sustained period in the top flight
Exeter boss Rob Baxter says Jersey Reds deserve the chance to play in the top flight after winning the Championship.
Baxter's side travel to the Channel Island on Saturday for their first competitive game against the Reds in the Premiership Rugby Cup.
The sides are level at the top of Pool C after two bonus-point wins each.
Jersey were not allowed to be promoted last season as their ground at St Peter does not conform to the Premiership's minimum standards.
"I think the pathway into the Premiership needs to be a little bit smoother, or certainly a little bit different," Baxter told BBC Radio Devon.
He led the Chiefs to the 2010 Championship title and has gone on to build a club that has won two Premierships and the 2020 Heineken Champions Cup.
"I'm not saying I know all the answers on how to do it, because without doubt we've had to invest millions and millions and millions of pounds to get into the Premiership and then stay here, and then to buy 'P' shares to get an equal share of the funding," said Baxter.
"I'm not saying I know the natural fluid way of doing it, but I think for me there's a better way of keeping a level of promotion and relegation that feels more sport friendly than is currently the situation."
Premiership Rugby did ease their rules a year ago, but still compel sides to have permission to expand to a capacity of 10,001 and space for at least 5,000 fans by the time they go up.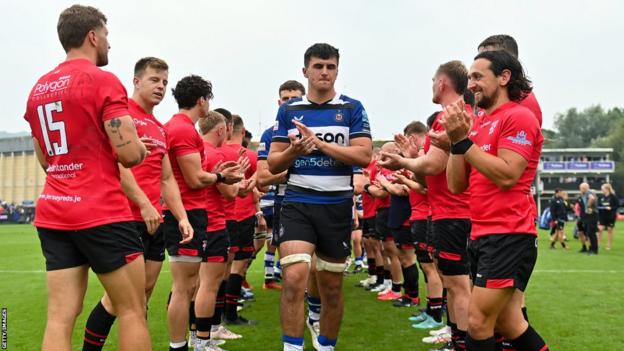 After winning at Bath last week Jersey host a Premiership club in a competitive game for the first time this weekend
Jersey have impressed so far in the new-look cup competition - thrashing fellow Championship side London Scottish 43-0 in the capital before beating Bath 34-10 at The Rec in their first competitive game against a top-flight side.
"You improve by being in and amongst it, so hopefully this will help the Championship clubs as well, because without doubt when we first came into the Premiership our biggest focus was improving game-by-game as we are at the moment," added Baxter.
"We came up largely with the team that won the Championship. In the starting line-up in our first couple of games I'm not sure if we had any new recruits.
"We improved across the course of that season and became and a very competitive Premiership side.
"I have an expectation that this will improve the Championship sides - it'll certainly give them a feeling on what they need to work on and where their strengths lie.
"The whole competition can be very positive across the two leagues in general."
Reds' rise 'absolutely unbelievable'
For Jersey director of rugby Harvey Biljon the club's first home game against a top-flight side, coupled with a first-ever win over a Premiership side last week, has been huge.
"It was great that the champions of the Championship could go and put in a performance against a Premiership team like Bath, and how great was it for the island?" he told BBC Radio Jersey.
"The amount of people that have reached out to me around Jersey Reds and this small island putting in a performance like that has been brilliant."
As Biljon celebrates his 10th year in charge of the club, a first competitive home game against a top-flight side is another reminder for him of how much the club's fortunes have improved over that time.
"It's been such a fantastic journey from relegation favourites to champions, and now against Premiership opposition," he added.
"How far has this come in the last 10 years? It's been absolutely unbelievable.
"I hope we can just continue to stay on that trajectory."


Go back to the 70s with cult scientific comedy:
Look Around You, the nostalgic, quirky spoof of educational TV
'Never did I expect it to turn into what it turned into':
The secret workings of the tabloids and PR agents connected to the 'Wagatha Christie' case