Venues & dates:
October 1: Atlanta Falcons v Jacksonville Jaguars, Wembley Stadium. October 8: Jacksonville Jaguars v Buffalo Bills, Tottenham Hotspur Stadium. October 15: Baltimore Ravens v Tennessee Titans (Tottenham Hotspur Stadium)
Kick-offs:
All 14:30 BST
BBC coverage:
Live text commentary on the BBC Sport website and app
The NFL has returned to London this week with a star-studded line-up set for this year's international series.
The league's growth in Europe continues with five regular-season games being held this side of the Atlantic for the first time.
Two of them are in Germany in November - including Super Bowl winners the Kansas City Chiefs against the in-form Miami Dolphins - but first there are three games in London, on back-to-back Sundays, all kicking off at 14:30 BST.
The series begins at Wembley this Sunday with the Jacksonville Jaguars returning to the team's second home. They have played in every London series since 2013 and will continue to do so until at least 2024.
As Jags quarterback Trevor Lawrence has put it, they are not just playing their 10th game in London this year, they are "double-dipping", becoming the first NFL team to play two regular-season games outside the US in the same season.
That is because they are staying in town to face Josh Allen's Buffalo Bills next Sunday at Tottenham, so for the first time since 2016, two teams that were in the previous season's play-offs will meet in London.
Then more of the NFL's modern greats will be on show as two teams who have been play-off regulars in recent years battle it out at Tottenham.
NFL 2023 season preview: Will Chiefs & Patrick Mahomes cement dynasty?
NFL week three review: Dolphins dominate as Taylor Swift cheers on Chiefs
International series set for 'explosive' opener
Trevor Lawrence earned his first NFL win at Tottenham in 2021, one of the few highlights from a turbulent rookie season under Urban Meyer. Under Super Bowl-winning coach Doug Pederson last season, Lawrence showed why he was hailed as a 'generational talent' when picked first in the 2021 draft.
The 23-year-old led the Jags to victory in seven of their past nine games to reach the play-offs for the first time in nine years. And he was not done there.
After a woeful start against the Los Angeles Chargers, Lawrence regrouped to lead a remarkable fightback from 27-0 down to win 31-30. The following week the Jags ran Kansas City close in a narrow defeat by the eventual champions.
Although they currently have a 1-2 record, their offence still features running back Travis Etienne, tight end Evan Engram and receiver Christian Kirk. And with veteran receiver Calvin Ridley having returned from suspension this season, his former team the Atlanta Falcons could face an aerial onslaught on Sunday.
"We just need to go play," said Lawrence. "We've got great players and I'm going to find them."
Trevor Lawrence - the new face of NFL London?
The Falcons are making a swift return to the UK having won the other London game in 2021. Since then, long-serving quarterback Matt Ryan has left and his replacement Marcus Mariota lost the starting job to rookie Desmond Ridder last December.
It was very much a transitional year for Atlanta but Ridder, 24, now leads a promising young offence featuring tight end Kyle Pitts, wide receiver Drake London and running backs Tyler Allgeier and Bijan Robinson - all drafted since 2021.
That offence is built on running the ball, and despite Atlanta being 2-1, coach Arthur Smith admits their passing game is yet to catch fire, saying: "It's not for a lack of trying, but we've got to hit some more explosives."
AFC contenders go head-to-head
Like Jacksonville, the Buffalo Bills reached week two of last season's play-offs, but while the Jags exceeded expectations, Buffalo had been pre-season favourites to win the Super Bowl.
It seemed they were ultimately overwhelmed by the emotional rollercoaster they had been riding since Damar Hamlin's injury in the penultimate game of the regular season.
Bills safety Hamlin was resuscitated on the field after suffering a cardiac arrest against the Cincinnati Bengals on 2 January, which sparked an outpouring of support from across the US.
Not only has he recovered, but he was cleared to return to football in April and played in Buffalo's three pre-season games, although the 25-year-old was not selected for their first three regular-season games.
The Bills still have a Super Bowl-calibre roster and quarterback Josh Allen remains a Most Valuable Player contender, but time is running out for this group to make it to the big game having fallen short in each of the past three years.
The AFC Conference is now hugely competitive and stacked with star quarterbacks, and this game will be a chance for Jacksonville and Lawrence to prove they have joined the leading contenders. It will also be a chance for Jags linebacker Josh Allen to outshine his more illustrious namesake, as he did when the two teams last met in 2021.
What's next for Aaron Rodgers & the Jets after injury blow?
Stars to spark Super Bowl run?
Another of the AFC's star quarterbacks is Lamar Jackson, briefly the NFL's highest-paid player after signing a new five-year contract with the Baltimore Ravens worth $260m (£214m) in April.
The 26-year-old was the NFL's Most Valuable Player in 2019 and won his first play-off game the following season, but his past two have been cut short by injury. One of the NFL's most exciting quarterbacks, he loves to run the ball, and the Ravens have brought in some new receivers for him too.
They added veteran Nelson Agholor and rookie Zay Flowers, plus sprinkled a little stardust on their roster, signing Odell Beckham Jr after he spent last season recovering from the torn anterior cruciate ligament (ACL) he suffered when helping the Los Angeles Rams win Super Bowl 56.
Watch: The catch that made Odell Beckham Jr famous
There were fears he suffered another serious injury in week two, but the 30-year-old should be back from his ankle problem in London, while 23-year-old linebacker David Ojabo, a Nigeria-born Scot, is relishing returning to the UK.
"Being back home, being around my family and friends, it's something that will be memorable," he told BBC World Service.
"I'm excited to be on the field with Lamar Jackson and see how far he can lead us, and you can't ignore Odell Beckham. He's a modern-day legend of the game."
The Tennessee Titans picked up another modern great in the off-season, veteran receiver DeAndre Hopkins. That means the Titans' offence can be less reliant on Derrick Henry, their battering ram of a running back, who has twice led the NFL for rushing yards and touchdowns.
Like Buffalo, both Baltimore and Tennessee have had impressive regular-season records in recent years then not backed it up in the play-offs. Can they use a victory in London to spark a run that finally takes them to the Super Bowl?
'Discipline' key to NFL success as Africans eye standout campaigns
What's happening around London games?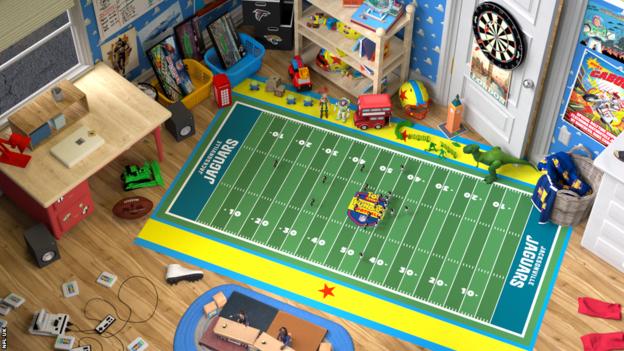 Animated versions of the Jacksonville and Atlanta players will be shown running across the floor of 'Andy's room' on Sunday
Viewers of Disney+ will be able to see the NFL like never before as this Sunday's game will be given the Toy Story treatment. The on-the-field play will be replicated in 'Andy's room', with each player appearing as an animated representation.
On Saturday, 7 October, the NFL will stage a 'takeover' of Battersea Power Station to host an immersive, free-to-attend event. Fans of all ages can test their football skills and meet NFL legends and pundits, among other things.
UK fans will then descend upon Tottenham Hotspur Stadium, which has extended its deal to play a minimum of two regular-season games each year to 2029.
And this year there will be a 'fourth London game' as, for the first time, the NFL Academy will play a match at Tottenham on 10 October - against Erasmus Hall, a US high school from Brooklyn.
Now based in Loughborough, the academy aims to set young African and European players on the path to the NFL and has previously held try-outs and training at Tottenham.
Beckham Jr met academy hopefuls at the first try-outs in 2019. In a few years perhaps he and Ojabo will be playing alongside them.
Get American Football alerts in the BBC Sport app
NFL fixtures and results
|
NFL tables

The Following Events Are Based on A Pack of Lies:
A deliciously dark, funny, and unpredictable thriller full of dupes, deceptions, and delusions
Do animals get intoxicated?
Naturebang investigates stories of drunk moose, wasted wallabies and dippy dolphins