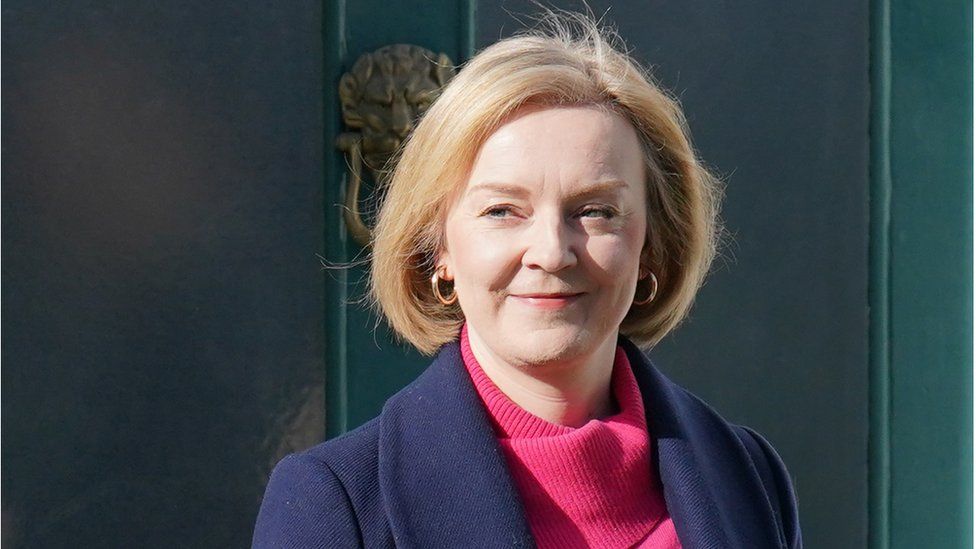 Image source, PA Media
By Kate Whannel
Political reporter, BBC News
Rishi Sunak should cut taxes, reduce benefit increases, raise the retirement age and delay net-zero commitments, his predecessor Liz Truss is set to say.
In a speech, the former prime minister will also vehemently defend the policies she tried to enact during her chaotic 45 days in office.
She will acknowledge that she tried to do things in a rush.
But the Tory MP will argue that she could not deliver her plans due to the "political and economic establishment".
Her speech at an event held by the Institute for Government think tank comes almost a year after her government unveiled a series of economic measures - described as a mini-budget - that included £45bn of tax cuts alongside support for people struggling with rising energy bills.
The plans triggered weeks of economic turmoil and just a few weeks later Ms Truss was forced to scrap almost all of the measures.
Her premiership did not survive the massive U-turn and she resigned on 20 October 2022, less than a month after the mini-budget.
The speech will be one of the few occasions she has spoken in public about her tenure and she is expected to say: "Some people said we were in too much of a rush.
"And it is certainly true that I didn't just try to fatten the pig on market day - I tried to rear the pig and slaughter it as well. I confess to that.
"But the reason we were in a rush was because voters wanted to see results.
"I knew with the level of resistance and the lack of preparation time that things weren't going to be perfect."
Media caption,
WATCH: Liz Truss's 45 days in office
She is expected to say that communication "could have been better and the operation better honed" but also that she was unable to implement her plans because there was a "powerful force comprising the economic and political elite, corporatists, parts of the media and even a section of the Conservative parliamentary party" opposed to her ideas.
She will also argue that her tax cuts were not unfunded as they would have increased revenue in the long term.
In addition to reflecting on her time in office, Ms Truss will use her speech to urge the government to reinstate VAT-free shopping for tourists and abolish the windfall tax on oil and gas firms.
"We need to get a grip on the ballooning welfare and pensions bill. This means slowing the rate of increases to benefits and tougher work requirements. It also means raising the retirement age further," she will say.
Having largely spent the past year since leaving No 10 keeping a lower profile, Ms Truss is likely to become more vocal in the next 12 months.
She is writing a book - due for publication in April - entitled Ten Years to Save the West, in which she will "share the lessons" from her time in government.
She is also expected to attend the Conservative Party conference in Manchester later this month.
Responding to her speech, the Liberal Democrat's deputy leader Daisy Cooper said: "Liz Truss giving a speech on economic growth is like an arsonist giving a talk on fire safety."
Conservative MP and former minister Damian Green said: "It's been a year since Liz wrote a Budget. I'm glad she's not responsible for this year's."
Meanwhile Labour have called on the prime minister to block Liz Truss's resignation honours list. Labour's shadow paymaster general Jonathan Ashworth argued that "those who crashed the economy" should not be rewarded.