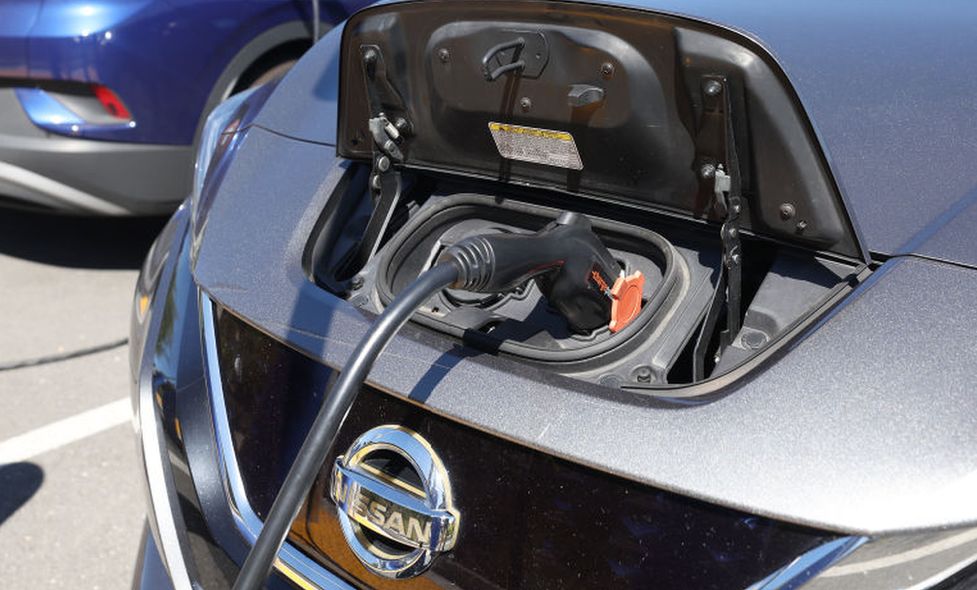 Image source, Getty Images
By Simon Jack
Business editor
Nissan will accelerate plans towards electrification by committing that all vehicles sold in Europe will be electric by 2030.
The announcement comes despite the UK postponing its 2030 ban on the sale of new petrol and diesel cars to 2035.
Nissan's boss said the firm's move was "the right thing to do".
Car trade body the SMMT has voiced concerns that the postponement of the ban would see consumers delay the switch to electric vehicles.
Nissan will also introduce new battery technology by the end of the decade that it said will reduce both the charging time and cost of electric vehicles (EVs), but it did not specify when EVs would cost the same as petrol cars.
"Nissan will make the switch to full electric by 2030 in Europe. We believe it is the right thing to do for our business, our customers and for the planet," said Nissan's chief executive Makoto Uchida.
Nissan is the only car company to have its own battery manufacturing capability in the UK.
Last year, it announced plans to invest £1bn in expanding the facility that sits next to its Sunderland car plant. The government contributed £100m towards the project.
That gives Nissan an advantage over other carmakers who import the vast majority of their batteries from China.
Post-Brexit trading rules due to take effect in January next year require vehicles made in the UK or EU to source 45% of their components by value from the UK or EU to avoid a 10% tariff when exported either way.
As batteries are the most expensive part of an electric vehicle, some manufacturers in both the UK and EU have said they will be unable to hit that threshold and have called on the requirement to be deferred until plants are ready and able to supply the batteries.
Business Secretary Kemi Badenoch recently told the BBC the government was optimistic that a deferral could be secured.