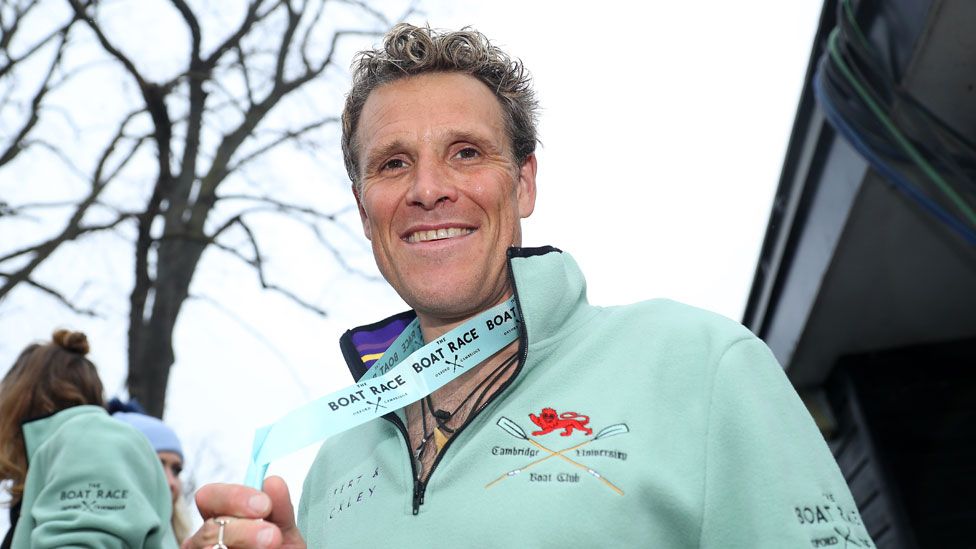 Image source, Getty Images
Image caption,
James Cracknell and his coxless four crew won gold in the 2000 and 2004 Olympic Games
By Kris Holland
BBC News, Essex
Olympic rowing champion James Cracknell will run as a Conservative candidate at the next general election.
The two-time Olympic gold medallist has been confirmed as the candidate in Colchester, where the sitting Tory MP Will Quince is standing down.
Paul Dundas, Conservative group leader at Colchester City Council, said Mr Cracknell was the "clear choice" of members.
Mr Quince had a 9,000 majority over Labour at the 2019 general election.
Mr Dundas congratulated Mr Cracknell and said that he had topped a long list of applicants for the Essex seat.
Image source, Will Quince
Image caption,
Colchester MP Will Quince will not stand at the next election
"I think he will be a fantastic candidate and a great MP for Colchester," he said.
"He will win because he is a guy who doesn't do losing."
Mr Cracknell and his coxless four crew won gold at the 2000 and 2004 Olympics.
He has long been linked with the Conservatives and in 2014 stood to be an MEP for the party in the European elections in south-west England.
Mr Quince announced his intention to stand down as MP in June, stating he wished to spend more time with his young family.
Who is James Cracknell?
Born in Sutton, London, in 1972, Cracknell attended Kingston Grammar School, where be began his rowing careerIn addition to Olympic gold medals in Sydney and Athens, he won six golds at the World Rowing Championship between 1997 and 2002He said he was
"lucky to be alive"
after a suffering a skull fracture in a bike accident that happened while filming a TV show in 2010In 2019, aged 46, he became the oldest competitor to take part in the
Boat Race between Oxford and Cambridge.
The same year, Cracknell joined the cast of BBC One's Strictly Come Dancing - but became the
first celebrity to be eliminated in the series.
Analysis - Andrew Sinclair, BBC East political editor
The Conservatives have found a little stardust to sprinkle at the next election.
They have just chosen a man who, 20 years ago, was one of the biggest names in British sport; a man with a compelling back story who has overcome injury and raised thousands for charity.
Local Conservatives are stressing that he has not been parachuted in. I am told that after phoning a few months ago to express an interest in standing, he faced a selection meeting and was grilled by the membership in the way that every other candidate was.
He does not seem to have any connections with the city, but helped canvass in a recent by-election and impressed local members with his enthusiasm.
Those who have met him describe him as being socially liberal and a pragmatist. He believes in low taxes and free enterprise, and thinks the NHS should be doing more to stop people falling ill. He voted Remain, but thinks the arguments over Brexit are a thing of the past.
Colchester Conservatives will need his enthusiasm and stardust in spades, because this is a seat that could easily change hands at the next election.
Related Internet Links
The BBC is not responsible for the content of external sites.