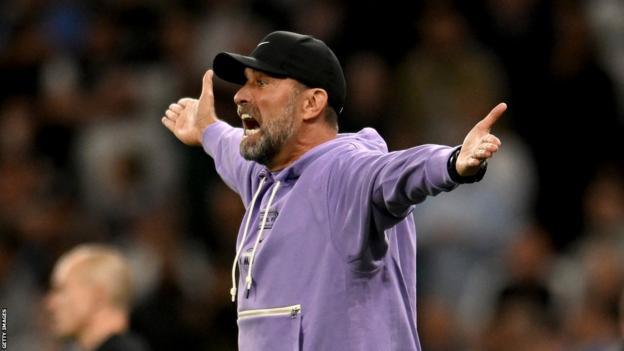 Jurgen Klopp;s Liverpool came within moments of securing a draw with only nine men
Jurgen Klopp said Liverpool's dramatic loss to Tottenham came in "the most unfair circumstances" and "crazy decisions".
At 0-0 Liverpool also had a Luis Diaz goal ruled out by a quick VAR decision in which the customary offside line graphic was not shown, with Klopp insisting the goal was not offside.
"The offside goal. That is not offside when you see it - they drew their lines wrong," he told Sky Sports.
"The ball is between Mo [Salah]'s legs, they drew the line wrong and didn't judge the moment when Mo passed the ball right.
"It is so tough to deal with it.
"I was never more proud of the team than today. I never saw a game like this with the most unfair circumstances, crazy decisions."


Our coverage of your Premier League club is bigger and better than ever before -
follow your team and sign up for notifications
in the BBC Sport app to make sure you never miss a moment