'Load on players is too much' - ten Hag on injuries
"Players can't deal any more with this overload."
Those are the rather foreboding words of Erik ten Hag as the Manchester United boss grapples with an ever-increasing injury list.
The Dutchman was speaking on the day his defender Lisandro Martinez was ruled out until the end of the year, bringing the total number of Red Devils' injury absentees to eight.
But Ten Hag is not the only Premier League manager having to deal with a lengthy casualty list just six weeks into the new season.
According to PremierInjuries.com, England's 20 top-flight sides currently have a combined 112 players out injured.
Manchester City boss Pep Guardiola thinks players should come together to try to force a change to the schedule.
Newcastle manager Eddie Howe, Arsenal's Mikel Arteta and Chelsea boss Mauricio Pochettino have also had their say on the issue, while Burnley's Vincent Kompany feels he may have come up with a solution.
Chelsea top the injury league
Chelsea currently top the injury table, with the likes of Christopher Nkunku and Wesley Fofana out with serious knee injuries, Romeo Lavia sidelined with an ankle problem, and full-backs Reece James and Ben Chilwell suffering from hamstring and thigh problems respectively. Their cause is further hampered by suspensions to Malo Gusto and Nicolas Jackson.
Sheffield United, Crystal Palace and Newcastle all have nine players unavailable, including the likes of Harvey Barnes, Michael Olise and George Baldock.
Arsenal boss Mikel Arteta is sweating on the fitness of as many as eight first-team players with Bukayo Saka and Declan Rice picking up injuries in the north London derby, William Saliba and Fabio Vieira suffering setbacks, Gabriel Martinelli and Leandro Trossard missing the 2-2 draw with Spurs and Jurrien Timber and Thomas Partey out with long-term injuries.
Champions Manchester City lost playmaker Kevin de Bruyne in their Premier League opener and 10 days ago Pep Guardiola said the club were "in trouble" due to their injury list, which is now easing.
At the other end of the table West Ham are only without Aaron Cresswell through injury, while Wolves' sole absentee, Jean-Ricner Bellegarde, is suspended.
Chelsea

10

Sheffield United

9

Crystal Palace

9

Newcastle United

9

Manchester United

8

Arsenal

8

Tottenham

8

Brentford

6

Burnley

6

Bournemouth

6

Luton

6

Aston Villa

5

Brighton

4

Everton

4

Fulham

4

Liverpool

4

Manchester City

3

Nottingham Forest

2

West Ham

1

Wolves

0

Source: Premierinjuries.com - not including suspensions or disciplinary issues
'The load on players is too much'
Ten Hag says he deliberately expanded his squad over the summer, bringing in seven players, to try to mitigate against injuries, but still finds his team stretched, with the recent non-injury absences of Jadon Sancho and Antony compounding matters.
"We had a World Cup in the middle of the season, we had a longer season, we had to play a longer season as well, with FA Cup, then Nations League games. A shorter break," said the Dutchman.
"Every time the schedule is expanding, the load on the players is too much, it's such a great overload. Many colleagues of mine have pointed to that and I have pointed to that as well. But it keeps going. We keep expanding the schedule.
"Players can't deal any more with this overload and I think that's what you see in this squad at the moment."
Manchester United returned for pre-season training on 6 July before, like many teams, jetting off to play friendlies in Norway, Scotland, the US and Dublin before their Premier League opener against Wolves on 14 August.
The 2022-23 Premier League season was longer than normal to accommodate a six-week break for the World Cup in Qatar in November and December, with the season starting on 5 August and ending on 28 May.
That meant the FA Cup final and European finals took place in early June, with Nations League fixtures not concluding until 18 June. Less than a month later Premier League clubs were back in pre-season to prepare for the start of the 2023-24 campaign.
For Manchester City, who reached the Champions League final and participated in the Community Shield, that meant there were just 58 days between the end of one season and the start of another.
Schedule at 'dangerous' level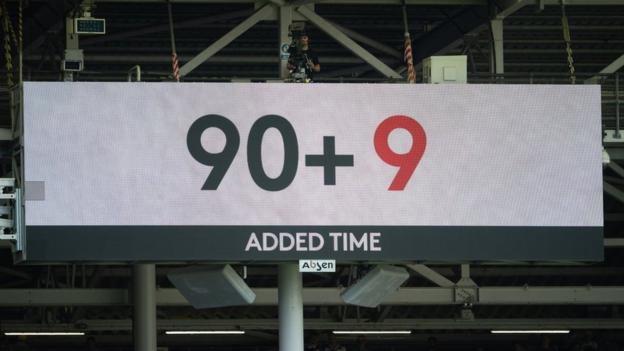 New guidance over stoppage-time has seen Premier League matches last close to and sometimes beyond 100 minutes
New guidance around stoppage time brought in at the start of the season has also been criticised by some players for adding to their workload.
Referees have been asked to more accurately reflect stoppages in play when deciding how much stoppage time to add on at the end of each half, which has often resulted in matches lasting more than 100 minutes.
Manchester United defender Raphael Varane was scathing of the new ruling, saying the schedule is already at a "dangerous level for players' physical and mental wellbeing", while De Bruyne said the changes "did not make any sense".
Is an appearance cap the answer?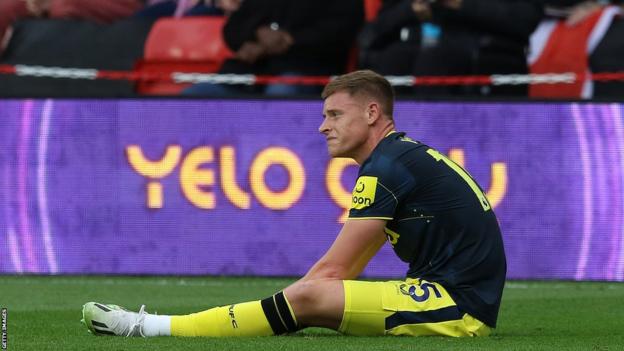 Newcastle winger Harvey Barnes is out for three months with a foot problem
Burnley boss Kompany has come up with a potential solution to help protect player welfare, suggesting that a 60-65 appearance cap could prevent burnout.
Asked about Kompany's suggestion at a news conference on Friday, Chelsea boss Pochettino was not sure it would work.
"I think it's difficult to analyse, to talk about everything because you need to assess every single situation," he said.
"Maybe players cannot cope with 70 games during the season, but another player can cope, another player can only cope with a limited percentage. It's difficult to talk in general because to put a limit because even the players want to play every game
"It's easy when the name is not a top player but when they say they want to play, how do you say no?"
Guardiola thinks it is up to the players to come together and put pressure on world governing body Fifa and its European equivalent Uefa to ease the physical burden.
"There is only one solution to change something - the players decide for themselves [to say] 'stop, we have to change something'. And after, Fifa and Uefa will maybe react a little bit," said Guardiola.
"This business, the show must go on. Without Pep? Keep going. But without the players, the show will not go on, that's for sure. So it depends on them, they decide if they accept.
"I don't want to influence, because I'm not going to influence anyone. I think it has to be the players. If the players want to change something, they are the only ones who can do it."
Howe, whose Newcastle side are in competing in Europe for the first time since 2013, said: "The load on those players that play every competition and international football goes up, and that's where we've got to be smart sometimes by trying to give them a rest at the appropriate time.
"But that's very difficult then when they're your best players and there's huge expectation on you to get results consistently. That's something I'd have to think about."
Gunners boss Arteta added: "Some of them happen in training and some of them are knocks. Some very small niggles but as well, coming for before the national team, after the national team, the load went through the roof and the demands continue to be high."
Follow your Premier League club and get news, analysis and fan views sent direct to you
BBC Sport app: Download to follow all the latest on your Premier League team


Our coverage of your Premier League club is bigger and better than ever before -
follow your team and sign up for notifications
in the BBC Sport app to make sure you never miss a moment