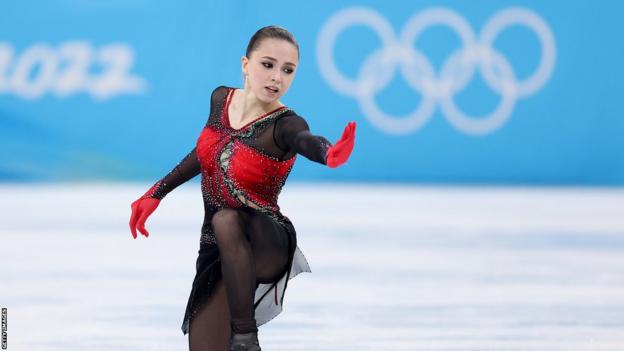 Kamila Valieva helped the Russian team to win gold but dropped from first place to fourth and out of the medals in the women's singles
Russian figure skater Kamila Valieva's doping case will be heard by the Court of Arbitration for Sport (Cas) on Tuesday.
Details of a failed drugs test emerged after she won team gold at the 2022 Winter Olympics.
The Russian Anti-Doping Agency (Rusada) found in January that Valieva, now 17, bore "no fault or negligence" for the positive test.
But the World Anti Doping Agency is seeking a four-year-ban.
Wada says Rusada's decision was "wrong under the terms of the World Anti-Doping Code". Valieva, then 15, failed a drugs test in December 2021 when she tested positive for banned heart medication trimetazidine.
Details of the result only surfaced after she had won gold in the team event at the Beijing Games, during which she became the first woman to land a quadruple jump at a Winter Olympics.
She was allowed to compete in the women's singles event after a court lifted her provisional ban but left the arena in tears after a number of falls and stumbles meant she dropped from first to fourth place.
Wada said earlier this year it was "concerned" by the decision to clear Valieva and wants the expunging of all her results from the date of the sample collection on 25 December 2021.
Cas says it is unsure when the results of the hearing will be released. It will take place in Lausanne, with Valieva and some of the experts and witnesses set to be heard by video conference.
Valieva returned to competition after Rusada cleared her, taking second place in the Russian championships at the end of 2022.
But, the case has also raised questions about how the 15-year athlete was treated and prompted the skating federation to raise the lower age limit for its senior category from 15 to 17 from 2024, citing the "physical, mental and emotional health" of competitors.
During the Games, the International Olympic Committee decided no medals would be handed out until Valieva's case was resolved.
The Russians scored highest, with the United States second, Japan third and Canada fourth.