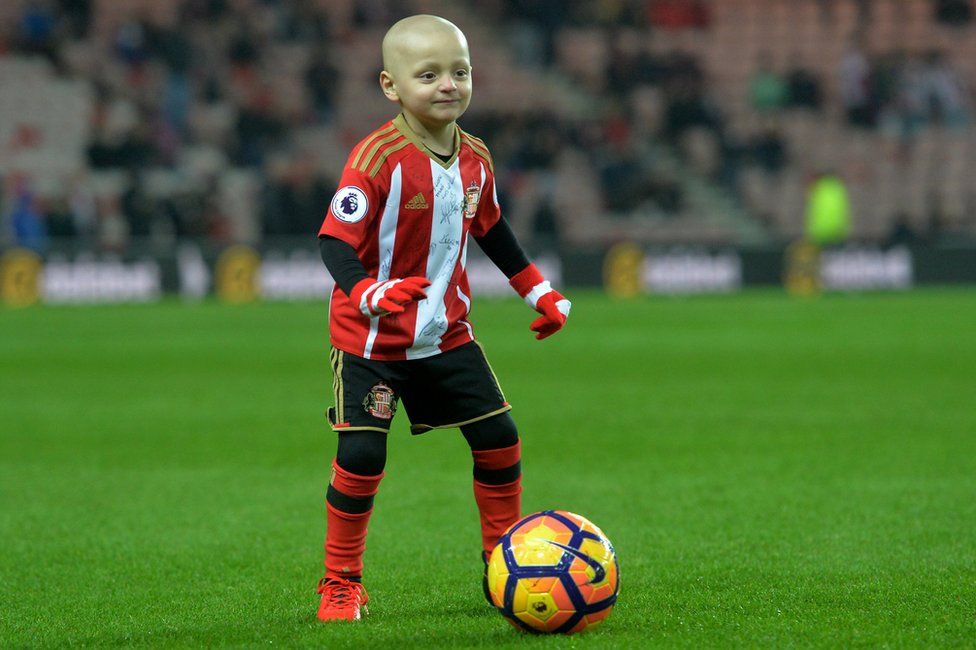 Image source, PA
Image caption,
Bradley loved Sunderland AFC and was invited on to the pitch at the Stadium of Light
Sheffield Wednesday is investigating after an image was shared online of two of its supporters mocking Bradley Lowery, who died of cancer aged six.
The photograph was allegedly taken at Hillsborough on Friday as the team played Sunderland, who Bradley was a mascot for before he died in 2017.
The club said it would investigate along with South Yorkshire Police.
"We roundly condemn this outrageous and utterly deplorable behaviour," a spokesman said.
"We can only apologise for the undoubted distress caused to Bradley's family and friends."
Image source, PA
Image caption,
Bradley passed away in 2017, aged six
South Yorkshire Police has been approached for comment.
Wednesday were beaten by Sunderland 3-0 at the game on Friday.
Bradley was a Sunderland fan, who was diagnosed with neuroblastoma - a rare type of cancer - when he was 18 months old.
He went on to be the club's mascot and became "best mates" with his hero, striker Jermain Defoe.
His mum, Gemma Lowery, said in a statement through the Bradley Lowery Foundation that police had been in touch to check on her wellbeing and were taking it very seriously.
'No colours'
She said: "Understandably people are angry, if I wasn't so upset I'd be angry too.
"Bradley was and still is well loved in the football community, which I'm eternally grateful for, but I must ask that everyone lets the police do their job, and deal with the low lives."
She added: "I want to thank Sheffield Wednesday, for their quick condemnation, and the support their fans have shown.
"Like we always say, cancer has no colours, and as we all know it can affect anyone at any time."
Well-wishers raised more than £700,000 in 2016 to pay for Bradley to be given antibody treatment in New York, but medics then found his cancer had grown and his family was told his illness was terminal.
Related Internet Links
The BBC is not responsible for the content of external sites.