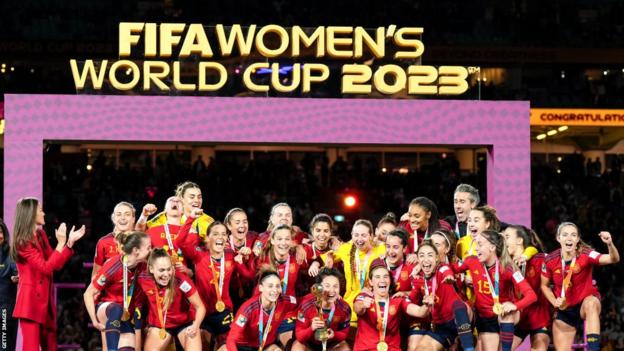 Spain beat England to win the Women's World Cup in Australia and New Zealand last month
Jenni Hermoso has not been included in Spain's first squad since winning the Women's World Cup, but 15 members of that triumphant team have been named.
A significant number of Spanish players have been boycotting the team since Luis Rubiales kissed forward Hermoso after last month's final.
The fall out led to Rubiales resigning.
But on Friday, 39 players - including 21 of the 23 World Cup-winners - said their strike would continue until further changes were made.
This was the first squad announcement by new coach Montse Tome, who replaced coach Jorge Vilda after he was sacked earlier this month.
It is unclear if the players who have been called up have ended their strike, with Tome saying she had spoken to those selected but was unwilling to reveal what was discussed.
Earlier on Monday, the Spanish football federation (RFEF) had urged striking players to return to the national team.
"We stand with Jenni," Tome said.
"We believe that the best way to protect her is like this, but we are counting on Jenni."
Spain have Nations League fixtures against Sweden on Friday and Switzerland on Tuesday, 26 September.
Barcelona duo Mapi Leon and Patri Guijarro - who were not included in Spain's World Cup squad after signing an open letter against then-coach Vilda - have been named in Tome's side.
"It's the start of a new phase, the clock is ticking," said Tome.
"There is nothing behind us and we really want to connect with these players."
More to follow.