We will go about our business, says Gareth Anscombe
Fly-half Gareth Anscombe has outlined how important Dan Biggar is to the rest of Wales' World Cup campaign.
Anscombe, 32, came on for the injured Biggar during the record 40-6 win over Australia and produced a man-of-the-match display.
Biggar suffered a pectoral injury and is expected to miss the Georgia match on 7 October but Wales are hopeful he will return for the quarter-final.
"Hopefully it's not too bad for Dan," said Anscombe.
"We know how important he is for the group, particularly on and off the field with the energy he brings.
"We've got a couple of days off now which have come at a good time for us and we need him back."
Special night in Lyon leads Wales to Marseille
Wales must keep Georgia on their minds - Humphreys
Wales became the first team to officially achieve quarter-final qualification at the 2023 World Cup and a victory against Georgia would set up a potential quarter-final with Argentina on 14 October in Marseille.
Head coach Warren Gatland will be hoping he has all fly-half options at his disposal. Anscombe and Biggar have dovetailed impressively for Wales over the years, especially during the 2019 Grand Slam when the roles were reversed.
"We've played similar roles before," said Anscombe.
"Clearly, there is always competition to grab the 10 jersey, but the main thing is we support each other.
"With myself, Dan or Costey [Sam Costelow], whoever gets picked, we're all capable of leading this team.
"Whoever starts and whoever comes off the bench has a role to play. I'm much better for having 65 minutes under my belt so whatever role I'm picked to do, I feel I can take confidence, relax and hopefully build on it."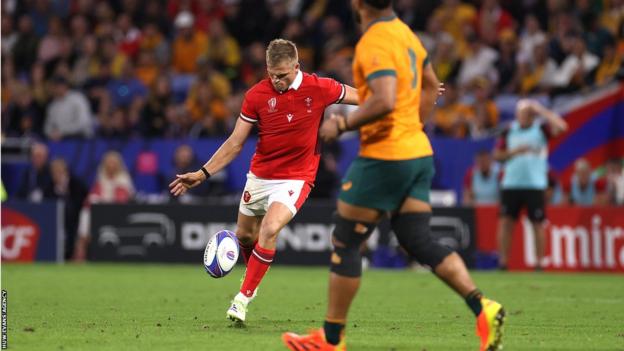 Gareth Anscombe has played 37 internationals for Wales and is competing in a second World Cup
Anscombe kicked six penalties, a drop-goal and a conversion in his 23-point haul in Lyon against the Wallabies.
"It was important when I came on I brought some control and steadied the ship like he [Biggar] does so well," said Anscombe.
"We always talk about nailing our roles and all I was thinking about was making sure I was accurate.
"The boys had started well and that's so important in big games and what was great was we kept the scoreboard ticking.
"We have to give a lot of credit to our forwards. We squeezed them at set-piece and took the points on offer."
Rugby World Cup fixtures, pools & BBC coverage
Anscombe had not previously scored a point in the World Cup but equalled Biggar's Wales record points for a single World Cup match which was set against England at Twickenham in 2015.
"Biggsy [Biggar] reminded me that apparently the last kick was to beat his record and I hit the post so I'm annoyed I've only tied that," said Anscombe.
"He is a great man and we get along so well, but he's given me a bit of stick about that."
One of the most poignant moments of the victory in Lyon was Anscombe peeling away to celebrate wildly after his deft chip kick helped Nick Tompkins score a second-half try.
"I suppose I've tried to let myself enjoy big moments a little bit more," said Anscombe.
"These moments are so intense. You feel the pressure so it's nice to be able to release a little bit. I had my daughter and my boy on the field with me after the game which was special.
"We work hard so it's important we celebrate little things. At times you've got to keep them in check and at times you've got to enjoy them as well."
Anscombe missed the 2019 World Cup due to a serious knee injury that ruled him out of the game for two years
After suffering a broken thumb during a training camp in Turkey in the summer, Anscombe had battled back to start against Portugal in Nice, but proved ineffective in the 28-8 win.
"I've probably never been as frustrated in my life as that coming off the pitch," said Anscombe.
"I haven't played much rugby and that's been one of the biggest frustrations of my career lately.
"I felt like I was building nicely in the summer camps and then I broke my hand. I thought at one point it was my World Cup done, but I've had enough of that. I owe a lot of thanks to the team behind the scenes here.
"The medical team did a fantastic job to get me back on the field. The coaching staff backed me without much game time.
"I felt like there was some sharpness which came back against Australia which was nice.
"There is still so much to work on from a personal perspective, but it was so nice to spend some time in the big arena, because when I get these questions about injuries, occasions like this are why you play the game."