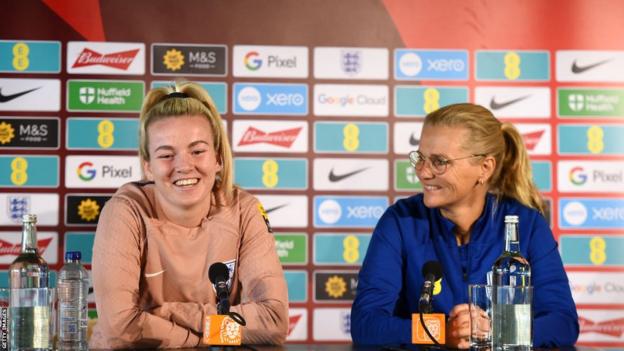 Lauren Hemp and Sarina Wiegman spoke to media at Stadion Galgenwaard on Monday
England manager Sarina Wiegman says it will feel "special but strange" to face her home country the Netherlands in the Women's Nations League.
Wiegman led the Netherlands to Euro 2017 glory on home soil before winning Euro 2022 with England at Wembley.
It is the first time she has returned to her homeland with her current side and the teams will play in Utrecht.
"Of course I have some memories here and so do the English. It's very nice being here," said Wiegman.
"It's just very special. We know each other really well. I know most of the staff, the players and it's in the Netherlands so lots of people will be in the stands.
"When we arrived, we have some memories that came back. Of course you have to move on. We have a big game tomorrow so we have to focus on that game."
How does the Women's Nations League work?
England won their first Women's Nations League match on Friday, beating Scotland 2-1 at Sunderland's Stadium of Light.
It puts them on three points in the four-team group A1 along with Belgium, who beat the Netherlands 2-1.
England are the nominated nation on behalf of Team GB to try to ensure qualification for the Paris Olympics. To do so, they must win the group and reach the Nations League final or finish third if hosts France are in the final two.
The Lionesses have no fresh injury concerns for Tuesday's match at Stadion Galgenwaard (kick-off 19:00 BST), with Arsenal striker Alessia Russo available after being rested against Scotland.
'Everything is three times as big in England'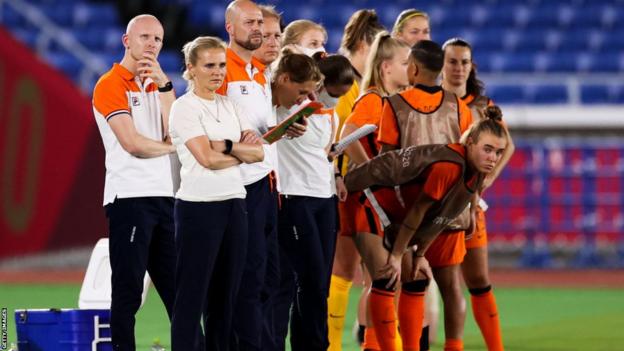 Sarina Wiegman took the Netherlands to the Euro 2017 and World Cup 2019 finals before joining England in 2021
Wiegman enjoyed huge success while in charge of the Netherlands, guiding them to a first major trophy at Euro 2017, then a World Cup final in 2019.
She joined England in September 2021, leading them on a 30-game unbeaten run which included victory at Euro 2022, before reaching the 2023 World Cup final.
Asked to compare the two different experiences, Wiegman said: "The big difference is that the women's game has developed a lot. In England, everything is three times as big.
"The media attention is bigger, the number of players we have available is more, the league is fully professional, also the FA [Football Association] is a much bigger association than the Dutch association is.
"So many people are involved in the women's game. We are a few steps ahead."
Wiegman's success, combined with increased visibility during her time in England, has meant there is "much more attention" on the Lionesses boss.
"First of all, it's very special to go through this. Where we were, from 500 spectators to now, when things are completely different," she added.
"I always try to see how we can perform even better. That is what I'm focusing on. But there is much more attention on me. That's something to get used to. It's a bit odd! The world around me changed but I try to keep calm."
Wiegman admitted she still speaks with several of the Dutch players on "personal matters" or "after some matches" but there is only one team she wants to see come out as winners on Tuesday.
"If we are not playing the Netherlands, then of course I want them to do well but tomorrow we are playing against them and we want to win the game," said Wiegman.
"I can turn that off - I have to, it's my job. I want the Netherlands to have the best - but we want to be first in the league."
'I'm getting so much more confident'
One player to have benefitted from Wiegman's arrival is Manchester City winger Lauren Hemp.
She scored three goals at the Women's World Cup this summer, playing in a more central position up front alongside Arsenal striker Russo.
Hemp says she enjoys being "challenged" by Wiegman and has "confidence and belief" in her game.
"Sarina is a fantastic coach. Ever since she got the job, I feel like she's taken this team to a whole new level. For me personally, I'm learning every single day," added Hemp.
"I feel like I'm getting so much better and getting so much more confident as the days go by. We've got a great coaching staff and she's the head of it. She's unbelievable.
"At the end of training sessions, we're always doing parts that help us individually so I feel like that's something that I'm implementing in my game."
'Wiegman is extremely respected in Holland'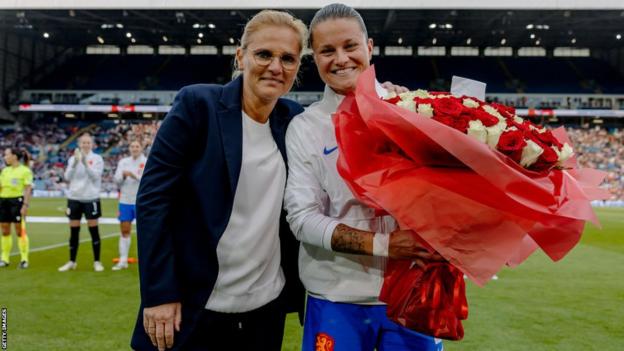 Sarina Wiegman presented her former captain Sherida Spitse with flowers to celebrate her 200th cap when the Netherlands played in England in June 2022
Netherlands captain Sherida Spitse, who played under Wiegman during their Euro 2017 success, said the England manager "means a lot" to people back home.
"She not only did a lot of stuff for us but for other people in women's football in the Netherlands," said Spitse.
"In the whole world, in football, I think she is a big name. She is a woman that knows really what she wants. If she wants something, she is going for it 100%.
"That is what you are seeing also [in England]. That is what she did here in the Netherlands. It is nice she is in England for you guys, but she is still a Dutchwoman."
Current Netherlands boss Andries Jonker compared Wiegman to Dutchman Louis van Gaal, who had three spells with the men's national team, as well as club stints at Manchester United, Barcelona, Ajax and Bayern Munich.
"Johan Cruyff was a completely different coach. [Wiegman] is more in the line of Louis van Gaal. That means organisation, structure and philosophy," added Jonker.
"I think she is extremely respected in Holland for her work with the national teams of Holland and England. She is being seen by everybody - and I mean everybody - as an outstanding coach."